Brochures
We have uploaded a selection of park brochures to this page, including the site brochure and transcriptions of Mrs. Kennedy's recorded tour of her son's birthplace in English, Spanish, German, French and Japanese. Please see below for links to pdf files of these brochures.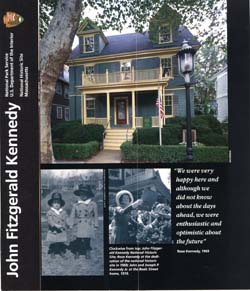 The site brochure contains information on visiting the site, a self guided neighborhood walking tour and information about the Kennedy family and John F. Kennedy's accomplishments. Click here to download this brochure.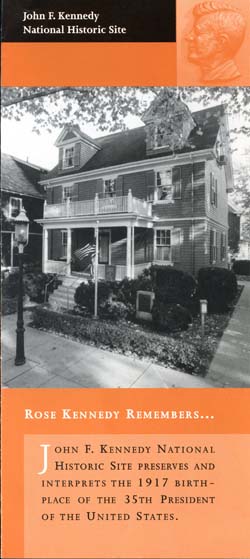 This brochure is a transcript of Mrs. Kennedy's tour of 83 Beals Street. Recorded between 1967 and 1968, Mrs. Kennedy describes the rooms of her son's birthplace as well as telling stories about the family and what it was like to live in 1917. This brochure is available in several languages. Please click your language in the list below to access a pdf file of the brochure.
Did You Know?

While many American women-including Jack Kennedy's grandmother, Mary Kennedy-supported woman's suffrage, the US Constitution didn't extend the vote to women until 1920. Years later, in 1963, Jack signed a Civil Rights Bill to guarantee every American's right to participate fully in civic life.