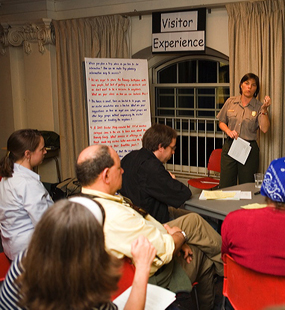 NPS Photo
Dear Friends,
In May 2009, the park hosted two public events to discuss the new General Management Plan being developed for John F. Kennedy NHS. Many ideas were generated and discussed regarding the future of the site. For those who were able to attend we thank-you for your time and participation at these meetings. We have transcribed the public comments from both events and have posted them in the column to the right for your review and reflection. If you would like to offer comments or want additional information, please write to us at the postal address, or email link, that appear below. We look forward to continuing to work with you on this plan that is so important for the future of the site.
Sincerely,
Superintendent Myra Harrison
Public Comments from GMP Open House, May 3, 2009
Public Comments from GMP Public Meeting, May 6, 2009

---
Have ideas about the plan or future of the site?
Thoughts to share following the Open House or Public Meeting?
Want more information?
Contact us by email or by mail at,
National Park Service
John F. Kennedy National Historic Site
83 Beals Street
Brookline, Ma 02445