Hwy. 26 open between Prineville and Mitchell, OR - Updated Wednesday, July 23, 2014

US26 mile posts 34.8 To 53 is now open to two way traffic with a 35 MPH speed limit. Motorists are required to use headlights in the affected area. Air quality in the area is poor. Follow link for more detailed information. More »
Sheep Rock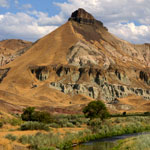 This unit features:

Picnic Areas
Historic Cant Ranch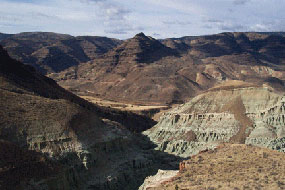 Multiple exposures of the Turtle Cove strata can be seen at the Sheep Rock Unit. This blue-green rock layer represents millions of years of volcanic ash accumulation. Surprisingly enough, the green tint is not due to copper, but rather a complex blending of the elements hydrogen, oxygen, sodium, magnesium, aluminum, silicon, potassium, calcium, iron, strontium, and barium.


American Indian pictographs

Learn more about the American Indian presence in the John Day Valley. Read More
Did You Know?

The best place to see the monument's fossils is inside the Thomas Condon Paleontology Center at the Sheep Rock Unit.