Trails at the Painted Hills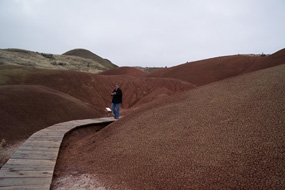 All lengths listed are round trip

Carroll Rim Trail (1½ miles) The trail climbs three hundred feet in elevation to a bird's-eye view of the Painted Hills. A bench is located at the end of the trail.

Painted Hills Overlook Trail (½ mile) This mostly level trail provides views of the most well known hills from several angles. Several benches are located along the trail.

Painted Cove Trail (¼ mile) A portion of the trail is boardwalk, accessible to those in wheelchairs, and offers a close up view of the red and gold claystone hills. The trail continues beyond the boardwalk, looping back to the trailhead.

Leaf Hill Trail (¼ mile) This drab looking hill was the scene of important scientific studies in the 1920s and again in the 1990s. Thousands of leaf fossils found here give us a view into a 33 million year old ecosystem. A few fossils are on exhibit along the trail. Half of the trail is accessible to those in wheelchairs; the remainder loops back to the parking lot.

Red Hill Trail (¼ mile) This is our newest trail - so new, that it isn't marked on any of the maps! Located at the far western edge of the unit, this short walk takes visitors to a hill with a sudden and dramatic color shift.


Did You Know?

Some of the earliest rhino fossils in the world were found in the John Day beds. We call these the "running rhinos".