Painted Hills Unit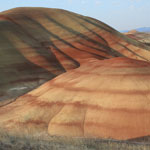 This unit features:
The yellows, golds, blacks, and reds of the Painted Hills are beautiful at all times of the day, but are best lit for photography in the late afternoon. Changing light and moisture levels can drastically affect the tones and hues visible in the hills.


Wildflowers at the Painted Hills

Wildflowers are a popular attraction during the spring and summer months at the Painted Hills. Read More
Did You Know?

The fossil leaves found at the Painted Hills represent an assemblage of broad-leaf deciduous trees that were growing on the edge of lakes and streams.