Outdoor Activities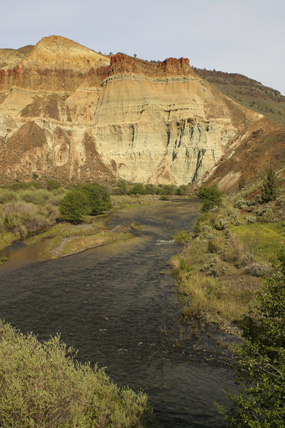 Hiking
Two printable guides with maps, trail descriptions, and distances are now available, updated in August, 2014.
Painted Hills and Clarno
Unit Trails
Camping
While there is no camping within the three units of the monument, there are many choices for nearby camping. This John Day Camping and Travel Map (updated in 2014) includes campgrounds, RV parks, and certain local services such as lodging, groceries, and restaurants near the monument.
The Malheur National Forest offers a camping map. Look for the Highlights section and click on "Camping Map."
River rafting
Large portions of the John Day River system, including those travelling through John Day Fossil Beds National Monument, are designated as a National Wild and Scenic River as well as an Oregon Scenic Waterway. Spring flows bring the best rafting conditions with the river becoming unfloatable usually by July 4th for most boats. Floating at levels between 1500cfs, and 5000cfs will keep most people away from rocks and trouble. Call Oregon River Flow at 503-261-9246, visit the Oregon Water Resources Department website to determine current stream flow levels.
Advance BLM/Oregon State Parks permits are required for to travel on the John Day River during the main float season between Service Creek, Clarno, and Cottonwood, regardless of distance travelled.
Fishing
It is legal to fish in the monument and elsewhere on public lands along the John Day River with the proper Oregon state fishing license. Smallmouth bass and rainbow trout are abundant.
For more information, contact the Oregon Department of Fish and Wildlife in Canyon City at 541-575-1167.
Mountain Biking
There are no mountain biking areas within the monument, but there are many designated routes in nearby public lands.


Did You Know?

The wildflowers at the Painted Hills provide abundant sources of food for the monument's many butterfly species.