Fees & Reservations
There are no visitor entrance fees for regular recreation visits at all three units of John Day Fossil Beds.
Special Park Uses: Permits are required for some activities such as special events and commercial filming and photography. Fees are charged for these permitted activities.
Special Use Permits are required for special events such as weddings and other ceremonies, meetings, gatherings, distribution of printed material and other public expressions of views, memorializations such as the scattering of ashes from human cremations, and other activities that are otherwise controlled or prohibited.
Commercial Filming Permits are required (with some exceptions) for all commercial filming and photography within the park.
Commercial Use Authorizations are required before conducting any commercial business activity within the park.
Please contact the park superintendent well in advance to discuss possible permit requirements, allowing sufficient time for application consideration and processing.
Digging of fossils is only allowed in the monument with a valid research permit issued by the monument's paleontologist. Permits are issued to bonafide research institutions that have submitted proposals in advance.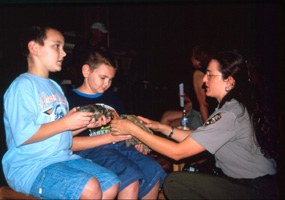 Ranger led education programs are available without cost for K-12 school groups, college classes, and continuing education groups by reservation only. Educational materials are also available for groups who cannot make it in person.


Did You Know?

Some of the earliest rhino fossils in the world were found in the John Day beds. We call these the "running rhinos".