Support Your Park
Do your part
America's National Parks belong to everyone. Support from the public is essential to maintain them. This support can come in many forms: financial, gifts of material goods, volunteer efforts, or political support.

Cooperation Association/Bookstore
Eastern National operates the bookstore located in the Plains High School Museum. Proceeds from book sales directly benefit park operates and support interpretive programs and materials.
More...
Give a Gift of Time
Be a part of one of a great team and make a difference! The National Park Service is an equal opportunity employer. A wide variety of volunteer opportunities exist at the Jimmy Carter National Hsitoric Site to assist the park in completing its mission.
More...


Jimmy Carter's Sunday School Schedule

links to Maranatha Baptist Church website

Plains Weather

links to the Georgia Automated Environmental Monitoring Network
Did You Know?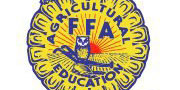 Jimmy Carter joined the Future Farmers of America in high school and served as secretary. He is also a "lifetime" member of the organization.