Rosalynn Carter Gallery
The Rosalynn Carter: First Lady From Plains, Georgia exhibit provides visitors with a glimpse into the life of a First Lady. The displays focus on her life experiences from childhood to her work in the field of mental health. It offers a unique view of the presidency through the eyes of the First Lady.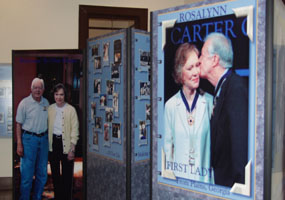 NPS PHOTO
The Jimmy Carter National Historic Site and Preservation District was established to benefit, inspire and educate the American people and "to preserve the key sites and structures associated with Jimmy Carter during his lifespan; to provide for the interpretation on the life and Presidency of Jimmy Carter; and to present the history of a small rural southern town." But, what about Rosalynn Carter? She worked by her husband's side supporting him both as a wife and partner. This exhibit, Rosalynn Carter: First Lady From Plains, Georgia documents the life of a once shy, small-town girl from rural southwest Georgia who grows up to inspire a nation and command the attention of the world as a strong, confident First Lady working alongside the Nation's President.
The gallery focuses on:
The Early Years: Growing up in Plains, Georgia
Military Life and The Return to Plains
Early Politics
The Governor's Mansion
The '76 Campaign and The White House
Office of the First Lady
The Post-Presidency and Life Today
It provides visitors the opportunity to learn about how the Carters have always lived according to a philosophy of hard work, adherence to principles, compassion, stewardship, integrity, and courage. This philosophy has its basis in the roots of the culture in which the Carters were raised.


First Ladies National Historic Site

First Ladies National Historic Site provides more information on the First Ladies of the United States. Read More

The Rosalynn Carter Institute

Provides information on the Rosalynn Carter Institute. Read More

Plains Weather

Get current weather conditions in Plains, Georgia. Read More
Did You Know?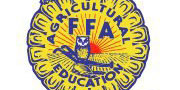 Jimmy Carter joined the Future Farmers of America in high school and served as secretary. He is also a "lifetime" member of the organization.