Presidents Day with Jimmy Carter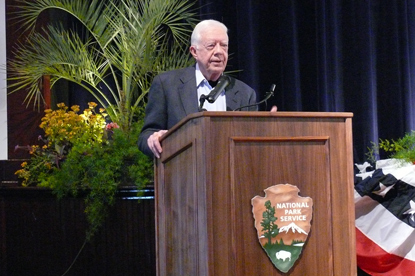 NATIONAL PARK SERVICE
News Release Date:
January 15, 2015
Contact:
Steve Theus
, 229-824-4104 ext. 42
The Jimmy Carter National Historic Site will celebrate Presidents' Day with a visit from the former President and First Lady of the United States, Jimmy and Rosalynn Carter. The Presidents' Day Celebration will be held on February 16th, 2015 at the Plains High School at 11:00am. The staff of the JCNHS would like to extend a warm welcome to the public and encourage everyone to attend this free (no reservations required) and exciting event in which both President and Mrs. Carter will speak on their experiences with public service during their term in the presidency.
Following their talks, there will be a brief question and answer period, followed by a book signing in which both President and Mrs. Carter will be happy to autograph works they have authored. Visitors wishing to participate in the autograph session should limit their books to three (3) per guest. Due to time constraints, President and Mrs. Carter will not be able to personalize the books or autograph any other items. Guests will be able to purchase book from the Eastern National Bookstore located inside the PHS Museum.
In an effort to further engage the public, the JCNHS has employed the use of technology to connect with student in Arkansas and Kansas for the event. These students will be able to participate via live stream of the program to their respective schools. They will be encouraged to participate in the Q&A session.
The Plains Depot will also be open on Presidents' Day. The Plains Depot served as the 1976 Presidential Campaign Headquarters and highlights President Carter's political campaign. Likewise, the Jimmy Carter Boyhood Farm will also be open on Presidents' Day. Visitors can experience a bit of nostalgia and learn about life in the 1930's by visiting President Carter's childhood home and farm.