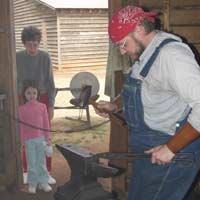 NATIONAL PARK SERVICE
The Jimmy Carter National Historic Site offers demonstrations throughout the year which include, peanut boiling and blacksmithing, giving young ones and those who are young at heart, a glimpse into life on the Carter Farm in the 1930's. There are other special events designed for the whole family which are held several times per year. Find out when these programs are offered by checking our Schedule of Events page.

NATIONAL PARK SERVICE
The Bookstore sells a variety of toys representative of the toys from the 1930's era including wooden spinning tops, jacks, cup & ball, and marbles. For the parents who want the kids to learn while they play, there are educational toys available. There are plenty of children's books available that explain different aspects, from farm life to understanding our government. Jimmy Carter has authored several books about politics and life, which are available in the bookstore. He also has published a children's book, The Little Baby Snoogle-Fleejer, a bedtime story that he would tell his daughter Amy, who is also the illustrator for the book.