The Carter Presidential Center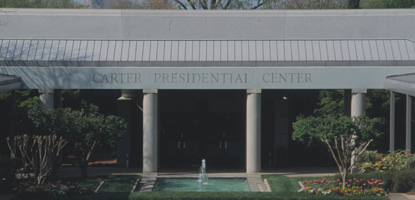 CARTER PRESIDENTIAL CENTER
The Carter Center
The Carter Center takes action on a shared dream of a caring global community. In 1982, President and Mrs. Carter entered into a partnership, with Emory University, that is committed to advancing human rights, alleviating unnecessary suffering, and improving the quality of life for people in more than 65 countries. This partnership is working to create a world where every man, woman, and child has an opportunity to enjoy good health and to live in peace. More...
The Carter Library and Museum
The Carter Presidential Library and Museum allows visitors to follow the life path of a boy born in rural southern Georgia, who became President of the United States of America. The library is filled with documents, photographs and other media used by researchers to study the different aspects of the Carter administration. The museum has exhibits that span the life of the Carters, from the fields of Plains, Georgia, to the Oval Office of the White House. More...