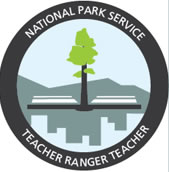 NATIONAL PARK SERVICE IMAGE
The National Park Service Teacher-Ranger-Teacher (TRT) program is an extended professional development opportunity for educators from K-12 schools to learn about the resources and educational materials available through the National Park Service. Teachers participating in TRT will have the opportunity to engage in parks and park resources, participate in a webinar about lesson planning, develop at least one lesson to be used in their classroom or school, assist the park with an education project, and increase their understanding of place-based learning.
This program will offer teachers a unique opportunity to infuse their teaching skills with NPS-based Science, Technology, Engineering and Mathematics (STEM) education resources. Administration of the program, professional development hours, and graduate credit hours will be made available to participants through the University of Colorado, Denver (UC Denver) through a cooperative agreement.
Program Goals:
Provide teachers with place-based learning experiences

Provide access to the rich resources of the national parks for inclusion
into classrooms and schools

Provide teachers with new knowledge and teacher skills related to the
resources and themes interpreted in the National Park Service

Provide parks with the expertise of teachers to inform and shape park
education programs and services