Wetlands Acadian Cultural Center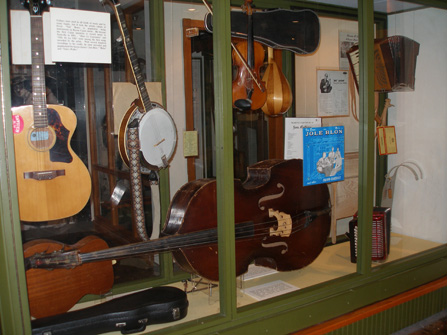 Special exhibit: "C'est La Vie" - Local artist Tracy Wisehart-Plaisance uses bright colors and broad strokes to capture the joie de vivre (joy of life) in south Louisiana. Her work ranges from portraits to landscapes and from traditional canvases to furniture. Through July 31. Free.
---
The lives of the Acadians (Cajuns) and others whose travels brought them to Louisiana's bayous are featured at the Wetlands Acadian Cultural Center in Thibodaux. Explore recreation, clothing, home furnishings, religion, cuisine, and fishing through exhibits, artifacts, videos, and films. A 200-seat theater is used for productions by the Thibodaux Playhouse, Inc., and other programs. Kids can earn a badge with the Junior Ranger program. The center's museum store has CDs, craft items, and books from cookbooks to children's stories on sale. Admission to the center and to most programs is free. Follow these links for the park's calendar of events, exhibits, and programs; for directions and transportation options; and for accessibility information.
314 St. Mary Street, Thibodaux
985-448-1375
Open Monday-Tuesday 9:00 a.m.-7:00 p.m. and Wednesday-Friday 9:00 a.m.-5:00 p.m. The center is also open 8:00-11:00 a.m. on Farmer's Market Saturdays (check with the center for dates). Closed on federal holidays and Mardi Gras (Tuesday, February 17, in 2015). Useful information about public transportation, regulations on pets, etc., is available here.
Regularly scheduled programs:
Free Cajun music jam every Monday 5:00-7:00 p.m. Bring an instrument and play along with local musicians or just enjoy!
Free walking tour of historic Thibodaux Tuesday-Thursday at 10:00 a.m. Join a ranger for a one-mile stroll through local history.
Cercle Francophone invites you to come pass a good time speaking French (Cajun or otherwise) 5:30-7:00 p.m. every Tuesday. Help keep French alive in Louisiana---and if you don't speak French, come on along to watch linguistic history in action. Free.
Boat tours on Bayou Lafourche cruise into Louisiana's past in fall and spring. Learn more here.
Special events and programs: