Spring in the Swamp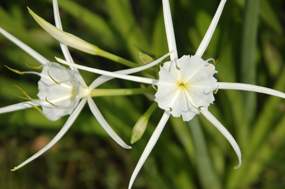 It's spring in the swamp at the Barataria Preserve: wildflowers are in bloom, frogs are calling, migratory birds are returning from their travels, and alligators are looking for romance. Join National Park Service rangers and volunteers for a weekend of free family fun during Spring in the Swamp, Saturday-Sunday, April 5-6, 10:00 a.m.-2:00 p.m. There'll be
A Touch Table where you can get your hands on furs, skulls, and more.
Dip-netting discovery activities.
Guided trail walks at 11:00 a.m. and 1:00 p.m.
The Junior Ranger Zone where kids can participate in the Animal Olympics, earn a Junior Ranger badge, and have some hands-on fun.
Park rangers and volunteers on the trails to answer questions and steer you toward interesting sights and sounds.
Admission and all activities are free and no reservations are needed. The preserve is located at 6588 Barataria Boulevard in Marrero near Crown Point.
---
A note about the preserve's famous irises: Very few giant blue irises have bloomed since Hurricanes Katrina and Rita struck south Louisiana in 2005. Rangers believe that the salty water brought in by the storms killed many of the iris plants; few plants are growing in areas once thick with giant blue irises. To learn more about the preserve's giant blue irises, click here. Hundreds of other wildflowers bloom in the preserve every spring; get a list here. Bird lists and information about preserve animals and plants are available here.
Did You Know?

Lubber grasshoppers are sometimes known as devil's horses in south Louisiana. They lay their eggs in the fall and prefer loose dirt, so they often lay their eggs in cemeteries. These enormous flightless grasshoppers hatch in spring and spend the summer munching their way through vegetation.