Some Park Sites Closed May 17-18

Staff from throughout the park will be at the Barataria Preserve for BioBlitz May 17-18 (you're invited too!). See how this will effect operations at other sites and learn more about BioBlitz by following the link. More »
Prairie Acadian Cultural Center - Eunice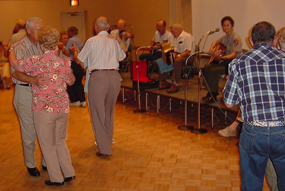 Waltz on in to the Prairie Acadian Cultural Center in Eunice. Discover the life of Louisiana's prairie Cajuns through ranger programs, exhibits, artifacts, and films. Kids can explore the center and earn a badge with the Junior Ranger program. The center's bookstore has books, music, children's books, and craft items on sale. Admission to the center is free. Click here for directions and program listings for specific dates.
250 West Park Avenue, Eunice
337-457-8499

Open Tuesday-Friday 8:00 a.m.-5:00 p.m., Saturday 8:00 a.m.-6:00 p.m. Closed December 25. Useful information about public transportation, regulations on pets, etc., is available here.
Regularly scheduled programs:
Discover "the Cajun way" every Saturday at 3:00 p.m. Watch fabric scraps become a beautiful quilt, enjoy a foodways presentation, learn to two-step from an expert volunteer, or just sit back and listen to the music. Free.
Rendez-vous des Cajuns every Saturday at 6:00 p.m. Enjoy an evening of live Cajun and zydeco music known locally as "the Cajun Grand Ole Opry" at the Liberty Theater next door to the center.
Special events and programs
For more on things to do in Eunice and for information on Cajun history and culture, check out
Did You Know?

Although there are over 250 species of North American crawfish, Louisiana's annual 100-million-pound, $50 million harvest consists mainly of two species. There are a lot of ways to eat crawfish: crawfish etouffee, crawfish pie, crawfish stew, boiled crawfish, crawfish beignets, crawfish bread.....