Schedule Of Events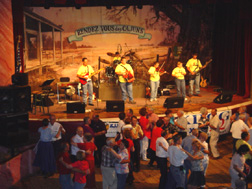 There's always something happening at Jean Lafitte---here's the December calendar of activities, programs, exhibits, and events. Note that in addition to all sites being closed on Thursday, December 25, as shown on the calendar, all sites will also be closed on Friday, December 26. Also, no Cercle Francophone at the Wetlands Acadian Cultural Center on Tuesday, December 23. Trails and grounds access at the Barataria Preserve, Chalmette Battlefield, and Chalmette National Cemetery will be the same on December 26 as on December 25.
To search by specific days or for future events, use the "Search for Events" function below. Be sure to click on "Show Results" to get the information you've requested.
Days and times of operations and information about holiday closings are here. Note that due to all park staff working at the Battle of New Orleans bicentennial (come join us!), sites other than Chalmette Battlefield will be closed for the event. If you plan to visit Jean Lafitte site between January 7 and 10, be sure to follow the closings link above for all the information on closures.
Search for Events
Events Upcoming for December
Showing 68 results

 RSS Feed