Photos & Multimedia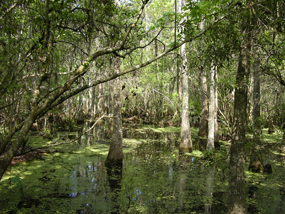 See what's happening at Jean Lafitte through photos and multimedia. You can also find out what's new with the crew via park social media.
Check out the park's photo gallery here to see pictures of volunteers at work, park programs, and more.
For a virtual tour of the Barataria Preserve, click here.
Coming soon---a self-guided tour of sites in New Orleans and St. Bernard Parishes associated with the Battle of New Orleans and the War of 1812's New Orleans campaign in 1814-1815.
For a closer look at south Louisiana, visit the multimedia page. Follow researchers as they learn more about park habitats or discover the secrets of delta dynamics.


Did You Know?

The cottonmouth or water moccasin can warn you of its dangerous bite in many ways. It releases a musky odor and opens its mouth wide to show you its white mouth and fangs. Show respect for snakes and all wildlife and always keep a safe distance away.