Columbus Day Closures

All park sites closed Monday, October 13, for Columbus Day. Follow the link for information about park hours and days and about access to the Barataria Preserve and Chalmette Battlefield/Chalmette National Cemetery on holidays. More »
Photos & Multimedia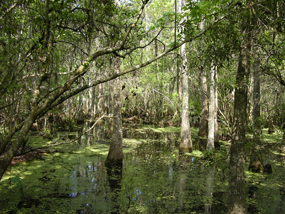 See what's happening at Jean Lafitte through photos and multimedia. You can also find out what's new with the crew via park social media.
High-quality photos suitable for publication and available for free downloads are available here.
Check out the park's photo gallery here to see pictures of volunteers at work, park programs, and more.
At BioBlitz 2013 in May, scientists, students, staff from the National Park Service and National Geographic, and community members hit the trails and waterways at the Barataria Preserve for a 24-hour inventory blitz of every living thing. Links to videos, information about species, and more are available at the BioBlitz 2013 page.
For a virtual tour of the Barataria Preserve, click here.
For a closer look at south Louisiana, visit the multimedia page. Follow researchers as they learn more about park habitats or discover the secrets of delta dynamics.


Schedule of events

Join the fun---check out the schedule of events to see what's happening at Jean Lafitte Read More
Did You Know?

The cottonmouth or water moccasin can warn you of its dangerous bite in many ways. It releases a musky odor and opens its mouth wide to show you its white mouth and fangs. Show respect for snakes and all wildlife and always keep a safe distance away.