National Public Lands Day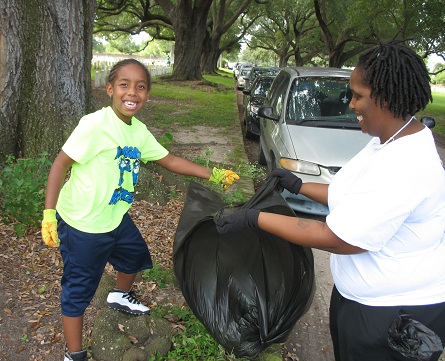 Your chance to help preserve YOUR American treasures is Saturday, September 26, on National Public Lands Day. Join volunteers of all ages at the Barataria Preserve or at Chalmette Battlefield and National Cemetery 9:30 a.m.-1:00 p.m.on this nationwide day of service. You can share a few hours and make a big difference!
Jean Lafitte's projects will include cleaning up the great outdoors at the Barataria Preserve, beautifying the historic Malus-Beauregard House at Chalmette Battlefield, and cleaning headstones at Chalmette National Cemetery. Volunteers of all ages are welcome; children under 15 must be accompanied by an adult. Volunteers should be prepared to get dirty: work clothes (long sleeves and pants are best due to poison ivy), closed-toe shoes or boots, work gloves, insect repellent, sunscreen, and a personal water bottle are recommended. The park will provide water for volunteers. The work projects will happen rain or shine (though thunderstorms will force cancellation), so if it looks rainy, bring your raingear.
Volunteers must register by Thursday, September 24. To register for either site, call the preserve at 504-689-3690 ext. 10. The Barataria Preserve is located at 6588 Barataria Boulevard in Marrero near Crown Point. Chalmette Battlefield and Chalmette National Cemetery are located at 8606 West St. Bernard Highway in Chalmette.
If you'd like, get a jump on the day by printing out the necessary forms, filling them in, and bringing them with you (forms will also be available when you check in). Remember that forms for volunteers under 18 must be signed by a parent or guardian.
Forms are a VIP (volunteer in parks) position description for National Public Lands Day projects, a volunteer services agreement for volunteers 18 and over, a volunteer services agreement for volunteers UNDER 18, and a photo release form for everybody.