Holiday Closures

All park sites closed on Christmas (December 25), and New Year's Day (January 1). Follow the link for more information about park hours and days. More »
Memorial Day at Chalmette National Cemetery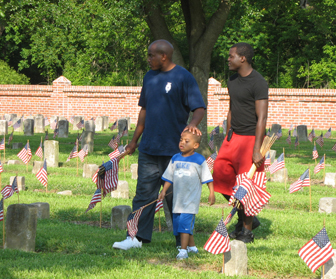 Each year, the Vietnam Veterans of VFW Post 3798 present a Memorial Day tribute to America's fallen troops at Chalmette National Cemetery on the Sunday before Memorial Day. The public is invited, and the event is free.
Each year, volunteers and staff prepare for the tribute and for Memorial Day by putting flags at each one of Chalmette National Cemetery's 15,000+ headstones. In recent years, volunteers and staff from The National WWII Museum in New Orleans have assisted with this project. For Memorial Day in 2013, more than 150 volunteers worked on the flag project. Their efforts are a wonderful tribute to the men and women who gave so much for their country.
As a young visitor to the cemetery said, "These aren't just headstones. Every one of them is a person, and that's why we should remember them."
Chalmette National Cemetery is located at 8606 West St. Bernard Highway in Chalmette, just downriver from Chalmette Battlefield (click here for a map to the battlefield and national cemetery) and is open daily 9:00 a.m.-4:30 p.m. For more information about the national cemetery, call 504-281-0510 or click here.
Watch volunteers put out the flags, learn more about Memorial Day, and find out how you can honor American troops at The National WWII Museum's My Memorial Day site.
Did You Know?

Vultures do not have many predators. If an enemy does approach, the vulture will face its enemy and vomit. This inventive bird also has a unique way to stay cool: it urinates on its legs. The urine also helps kill any germs picked up while standing on a carcass.