Columbus Day Closures

All park sites closed Monday, October 13, for Columbus Day. Follow the link for information about park hours and days and about access to the Barataria Preserve and Chalmette Battlefield/Chalmette National Cemetery on holidays. More »
Living History Participants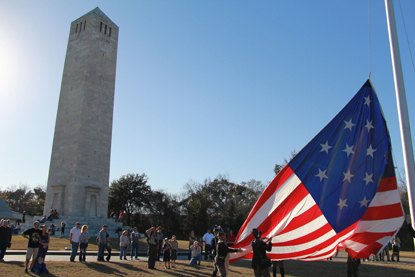 DON'T FORGET: THE DEADLINE TO APPLY TO PARTICIPATE AS A LIVING HISTORY REENACTOR OR AS A CRAFT DEMONSTRATOR, ACTIVITY LEADER, SPEAKER, MUSICIAN, ETC., IS SUNDAY, AUGUST 31!!!
Jean Lafitte staff and the living history community have been looking forward to the bicentennial of the Battle of New Orleans for years and for almost that long have been working together to make it a memorable event. If you're a living history reenactor, follow the links for information about the bicentennial at Chalmette Battlefield and for an application to participate.
People who are interesting in participating by sharing the skills and history of life in the early 1800s through demonstrations, activities, talks, music, etc., should also follow the links; note that you do not need to be in period dress for this.
If you have questions, email the park.
How to participate:
LIVING HISTORY REENACTOR INFORMATION PACKET: Information on plans for the bicentennial, how to apply to participate, and more is here. You must submit an application form if you would like to set up a period camp at Chalmette Battlefield during the bicentennial, participate in or lead a ceremony, and/or participate in or lead a Battle of New Orleans University program or demonstration.
APPLICATION FOR TO PARTICIPATE IN BICENTENNIAL EVENTS AT CHALMETTE BATTLEFIELD: Click here for the application form. The form is a fillable pdf that you can fill in, save, and email, fax, or mail to the address on the application. Please note that when you start typing information into a fillable box, the type will be very big; keep typing and the type will keep getting smaller to fit into the box.
The application deadline is Sunday, August 31, 2014. When your application is received, the park will send you a confirmation. By Wednesday, October 1, 2014, you'll find out whether your application has been accepted and whether you are a registered participant.
Note that you don't need to apply to participate if you simply want to attend Chalmette Battlefield bicentennial events, either in period dress or in "non-period" clothes.
Information about reenactments at the Chalmette Living History Park and other activities planned by the living history community is at the 7th US Infantry Living History Association website. Note that a separate registration is required for those activities.
More useful information and ways to stay in touch with what's happening:
Did You Know?

The cottonmouth or water moccasin can warn you of its dangerous bite in many ways. It releases a musky odor and opens its mouth wide to show you its white mouth and fangs. Show respect for snakes and all wildlife and always keep a safe distance away.