ELCA Youth Volunteers July 2012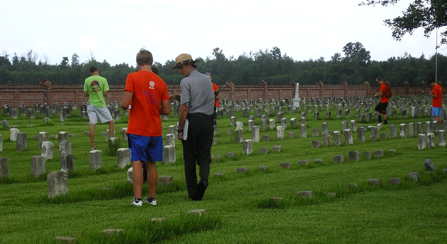 Nearly 150 volunteers from across the United States pitched in to help preserve the treasures of Jean Lafitte during the 2012 ELCA Youth Gathering in July 2012. More than 33,000 members of the Evangelical Lutheran Church in America (ELCA) came to New Orleans to meet and to put their faith into action by working on projects throughout the New Orleans area.
ELCA volunteers contributed nearly 350 hours to projects at Jean Lafitte. At Chalmette National Cemetery, they dodged rainstorms to clean headstones and work on a project that will record headstone data for the cemetery's 15,000+ headstones. Park headquarters was the scene for tasks like running optical cable that will improve park communications and computer networking and assisting the park curator with work in the artifact collection. Other volunteers contributed to the living history program at Chalmette Battlefield by inventorying uniforms and cleaning and polishing equipment used by War of 1812 reenactors.
Plans had called for another 200 volunteers to do additional work at Chalmette National Cemetery and to remove invasive plants at the Barataria Preserve, but storms, heavy rain, and resulting high water forced park staff to switch to interpretive programs instead, meeting the ELCA goal for volunteers to learn about south Louisiana history and ecosystems.
One Jean Lafitte staffer who worked with the volunteers said, "Even though the weather alternated between hot and sticky and tropical downpours, they just kept smiling and working. ELCA volunteers rock!"
Click on the links below to see photo galleries of the projects. Please note that the photos can be downloaded; if used, please credit National Park Service. Thank you, ELCA volunteers!!!
Photo gallery: ELCA volunteers at Chalmette National Cemetery Jul 19, 2012. The volunteers cleaned headstones and recorded headstone information that will go into a searchable database---and during the intermittent rainstorms, discovered that waterproof paper really is waterproof!
Photo gallery: ELCA volunteers at park headquarters Jul 20, 2012. Some volunteers filed documents and organized the cache of extra uniforms. Others helped the park information technology specialists run bright orange conduit through walls so new computer cables can be added later. In the artifact storage room, volunteers helped the park curator wrap and sort artifacts. Once again, they didn't let a day of downpours dampen their spirits!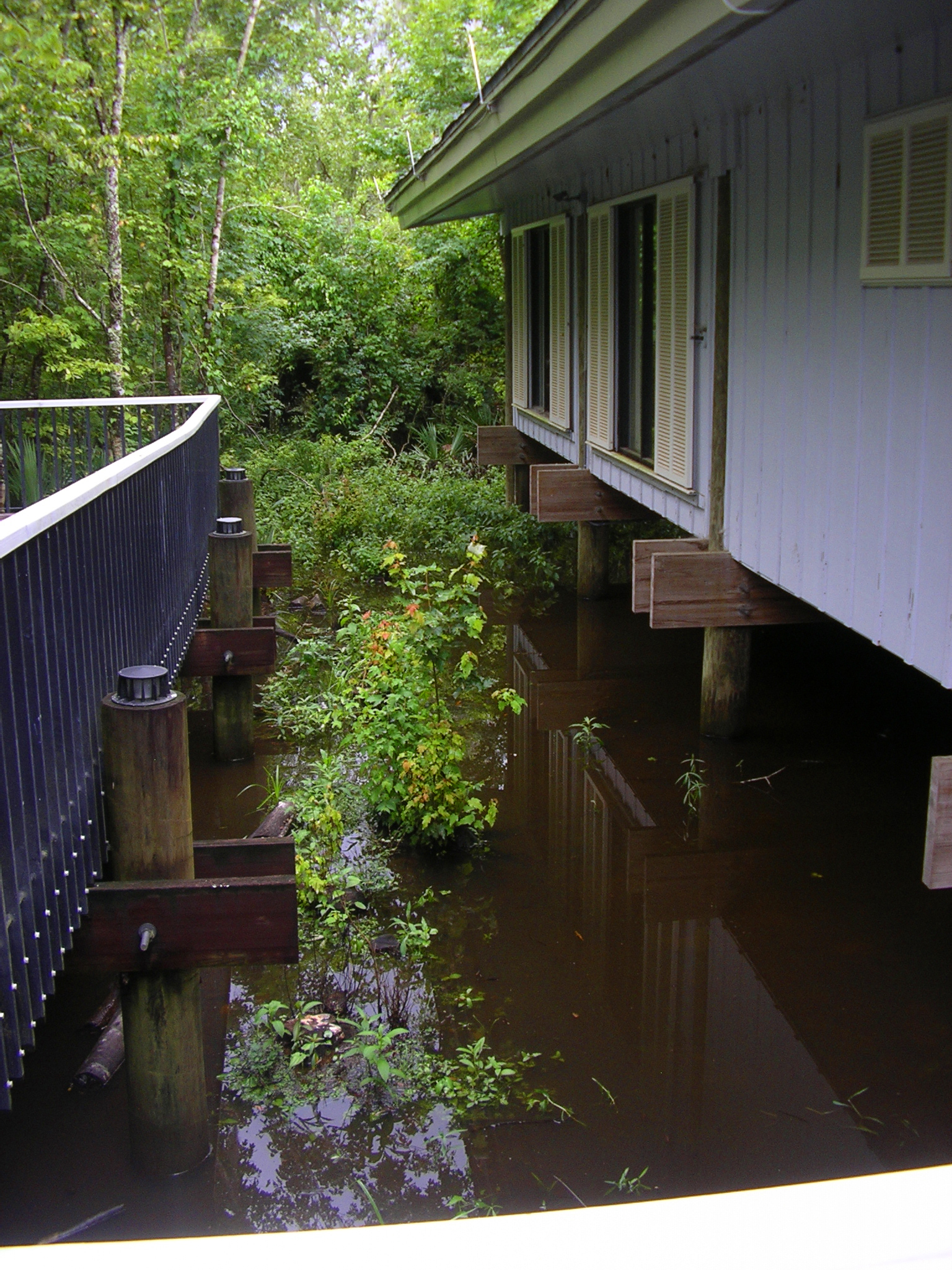 Photo gallery: ELCA volunteers at the Barataria Preserve Jul 21, 2012. The plan was for volunteers to remove invasive non-native plants, but days of heavy downpours left much of the preserve underwater. Park staff convinced the volunteers to take a day off and get to know the swamp, and everyone headed out to the boardwalk to dip net and discover crawfish, water tigers, fishing spiders, and another tiny denizens of the deep.