Frequently Asked Questions - Barataria Preserve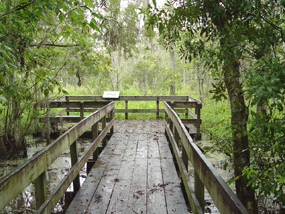 NPS Photo
Where can I see an alligator? Alligators are usually visible from the trails at the Barataria Preserve.
May I feed the alligators? No. Alligators are wild animals, very fast, and always hungry. Never feed wild animals in any national park. Feeding wild animals is dangerous to you and to the animal, who will lose its protective fear of humans.
If there are alligators and snakes in the Barataria Preserve, is it dangerous to walk the trails or go canoeing? Not if you use common sense. Be respectful of any wild animals and give them plenty of room. If you leave them alone, they will leave you alone.
Where can I find out about birds, plants, and animals at the preserve? Follow this link to the Nature and Science pages.
May I take food on the trails? No. Food and disposable drink containers (other than bottled water) are not allowed on the trails. Picnic areas are available in the park (see trail map).
Do I need a license to fish in the Barataria Preserve? Yes (see fishing regulations).
Can I go hunting in the Barataria Preserve? Yes. Links to hunting regulations, season dates, and other important information are added to the park's home page every year in late summer. Hunting seasons are during the fall and winter.
Does the preserve rent canoes? No. Call the preserve visitor center 504-689-3690 ext. 10 to find out about local canoe rental companies. Click here to read about canoeing at the preserve.
Are there lots of mosquitoes? Often. Mosquitoes are active most of the year. Bring bug repellent or purchase it at the visitor center.
Did hurricanes Katrina and Rita affect the preserve? Yes. Click here to read about what happened during the storms and how the preserve has recovered.
Did You Know?

Alligators have two eyelids! The second inner eyelid is clear and used like goggles while the alligator is under water. These amazing reptiles have been around since before the dinosaurs, and they are designed for life in the water.