Chalmette National Cemetery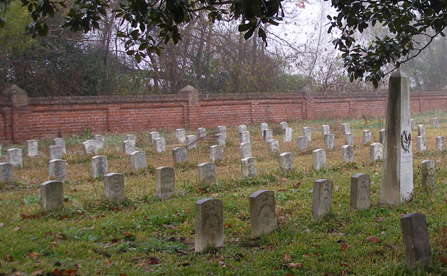 Elizabeth Dupree
Serve those who served for us! Join Jean Lafitte, the National Center for Preservation Technology and Training, and the National Trust for Historic Preservation for the HOPE Project, a volunteer project to clean, realign, and document headstones at Chalmette National Cemetery. The national cemetery holds over 14,000 headstones of troops from the cemetery's founding during the Civil War to the Vietnam War, so hundreds of volunteers are needed. Project days and times are 9:00 a.m.-noon and 1:00-4:00 p.m. every Monday through Friday from Monday, March 7, through Friday, April 1, and on Saturdays March 12 and 19. Sign up for just one time slot or as many as you'd like. Volunteers will clean and realign headstones and learn to document headstone condition and biographical information. The HOPE Project stands for Hands-on Preservation Experience, and its goal is to get everyday people, especially youth, interested and involved in taking care of America's historic places. Groups, families, and individuals are welcome to sign up; volunteers must be 14 years old to participate and those under 16 must be accompanied by a parent or guardian. Youth groups should have one adult volunteers for every five youth volunteers. All supplies and equipment will be provided, including drinking water for hard-working volunteers (bring your own water bottle if you can). Smartphones or tablets will be helpful for volunteers working on documentation. HOPE project partners include D/2 Biological Solution, Oak & Laurel Cemetery Preservation, Pierre Masonry, and Texas Cemetery Restoration, LLC. To learn more, to sign up, or to share your memories of Chalmette National Cemetery, go to the project website. Here's a downloadable pdf about the project to print and share.
---
Established in May 1864 as a final resting place for Union soldiers who died in Louisiana during the Civil War, Chalmette National Cemetery's more than 14,000 headstones mark the gravesites of veterans of the Spanish-American War, World Wars I and II, and the Vietnam War. Four Americans who fought in the War of 1812 are buried here, though only one of them took part in the Battle of New Orleans. The national cemetery is located on the site of the Battle of New Orleans in 1815, next to Chalmette Battlefield.
More about Chalmette National Cemetery:
Chalmette National Cemetery is located at 8606 West St. Bernard Highway in Chalmette. Gates are open as follows: Tuesday-Saturday, Memorial Day, and Veterans Day 9:00 a.m.-4:00 p.m. On all other federal holidays, gates are open 9:30 a.m.-3:30 p.m. Gates are closed on Mardi Gras. Days and hours of operation for the visitor center at Chalmette Battlefield next to the national cemetery can be found here. To reach the battlefield visitor center, call 504-281-0510. Links to useful information like maps, public transportation, pets, permits for special uses, etc., are available on the basic information page.
Questions regarding interments at the national cemetery should be directed to the park superintendent's office at 504-589-3882 ext. 108.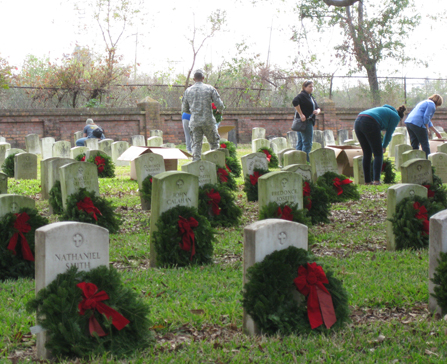 Wreaths Across America and dozens of volunteers laid evergreen wreaths at headstones in Chalmette National Cemetery in mid-December, turning the landscape into one of solemn beauty. Learn more about Wreaths Across America and their mission to honor veterans here.
---