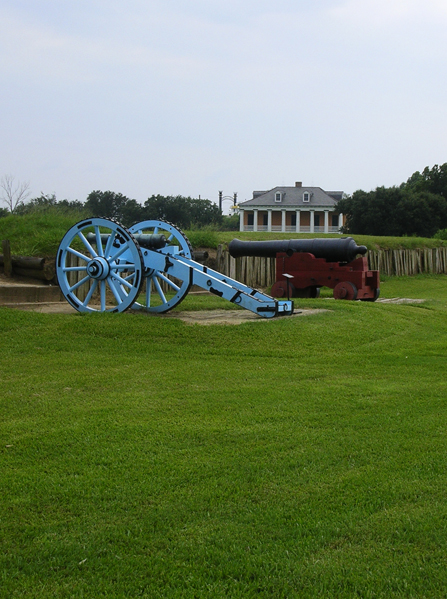 Volunteers are needed for a major project at Chalmette National Cemetery March 7 through April 1. If you can help clean, realign, and document headstones, follow the link for more information and to sign up.
If you've ever dreamed of becoming a living history reenactor, now's your chance. Chalmette Battlefield will host living history training in spring 2016; here's a pdf flier with contact information to download, print, and share.
---
Just downriver from New Orleans in Chalmette is the site of the January 8, 1815, Battle of New Orleans: Chalmette Battlefield. Many people believe that this last great battle of the War of 1812 between the United States and Britain was unnecessary, since the treaty ending the war was signed in late 1814, but the war was not over. The resounding American victory at the Battle of New Orleans soon became a symbol of a new idea: American democracy triumphing over the old European ideas of aristocracy and entitlement. General Andrew Jackson's hastily assembled army had won the day against a battle-hardened and numerically superior British force. Americans took great pride in the victory and for decades celebrated January 8 as a national holiday, just like the Fourth of July.
Learn about the War of 1812 from visitor center films and exhibits. Kids can earn a badge with the Junior Ranger program. The center's museum store has books, period music, reproductions of items from the period, and children's books. Admission is free. Learn about the visitor center (dedicated on January 8, 2011) and see a map of the site that includes troop movements from the Battle of New Orleans as well as outdoor exhibits that provide a self-guided tour. Follow these links for the park's calendar of events, exhibits, and programs; for directions and transportation options; and for accessibility information.
8606 West St. Bernard Highway, Chalmette
504-281-0510
CHANGE IN OPERATING DAYS: As of Sunday, February 21, all battlefield facilities including visitor center will be open daily, Memorial Day, and Veterans Day (closed on federal holidays other than Memorial Day and Veterans Day and closed on Mardi Gras).
The battlefield visitor center and the entrance gates to the battlefield and to Chalmette National Cemetery (just downriver from the battlefield) are open Tuesday-Saturday, Memorial Day, and Veterans Day 9:00 a.m.-4:00 p.m.. The visitor center is closed on Sunday, Monday, and all federal holidays other than Memorial Day and Veterans Day. On Sunday-Monday and on all federal holidays other than Memorial Day and Veterans Day, entrance gates to the battlefield and to the national cemetery open by 9:30 a.m. and close at 3:30 p.m. The battlefield and national cemetery are completely closed on Mardi Gras (Tuesday, February 9, in 2016). Links to useful information like maps, public transportation, pets, permits for special uses, etc., are available on the basic information page. The paddlewheeler Creole Queen travels from New Orleans' French Quarter to the battlefield; visit the Creole Queen website for sailing times and ticket information.
Chalmette Monument, the battlefield's 100-foot-high obelisk that honors the troops of the Battle of New Orleans, is open on Friday and Saturday 9:00 a.m.-3:30 p.m. Visitors may climb the 122 interior steps to the top where there is a viewing platform. Children climbing the monument's interior steps should be accompanied by an adult. Climb carefully and do not rush: this is a moderate climb, but steps and handrail may be slick in wet or humid weather. The stairs are narrow and there is little room to pass other climbers or to turn around, so maximum capacity is 10 adults.
Regularly scheduled programs:
Battle of New Orleans ranger talk - Tuesday through Saturday at about 10:45 a.m. and 2:45 p.m. when Creole Queen excursion boat docks at battlefield. Note that beginning Sunday, February 21, the ranger talk will be given daily.
Special events and programs:
Learn more about