Holiday Closures

All park sites closed on Christmas (December 25), and New Year's Day (January 1). Follow the link for more information about park hours and days. More »
BioBlitz 2013 School Field Trips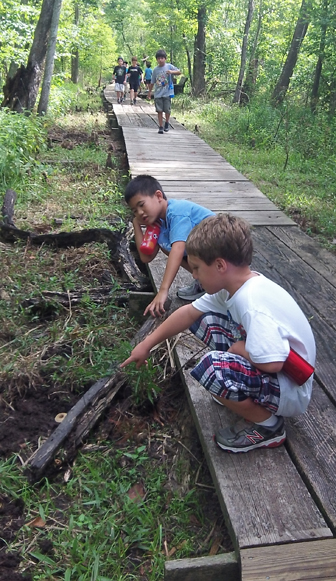 Adventure awaits your students at BioBlitz 2013! Here's their chance to discover new ideas and new creatures in their own backyards, to participate in real scientific exploration, and to understand their surroundings in a whole new way.
BioBlitz is a two-day adventure that takes a scientific snapshot of one day at one place: students and other volunteers will join scientists to search for, count, map, and learn about plants and animals. Each year National Geographic chooses a different National Park for a BioBlitz; follow the link to learn more.
BioBlitz 2013 is set for Friday and Saturday, May 17 and 18, at the Barataria Preserve of Jean Lafitte National Historical Park and Preserve (6588 Barataria Blvd. in Marrero near Crown Point). Although participants at Jean Lafitte's BioBlitz will be encouraged to inventory every living thing, the event will concentrate on invertebrates---creatures without backbones like crawfish, mosquitos, butterflies, and spiders---perfect for a BioBlitz on the bayou!
Along with the scientific adventure, there'll be a free Biodiversity Festival at the preserve featuring local nature and science organizations and celebrating the cultures of Louisiana with food and music.
Student field trips from schools and home school groups are welcome to participate on Friday, May 17, by
registering for a GLE-based species inventory project led by scientists and trained volunteers at the Barataria Preserve
attending the free BioBlitz Biodiversity Festival where area environmental educators will encourage students to discover the biodiversity in their own backyards
All field trip spaces are currently full, but you can still register for the waiting list; you will be informed if space becomes available. Follow the link to the National Geographic Education website to learn more about BioBlitz school field trips and to put your group on the field trip waiting list (look for the Educational Resources link on the righthand side of the page).
Note for scout groups, nature clubs, and groups other than school field trips: Registration for group activities will open for you in April. You'll be able to sign up to join exploration teams with park rangers, naturalists, and scientists on Friday evening, May 17, or Saturday, May 18. Send an email to the BioBlitz team and you'll receive an email when registration opens.
Did You Know?

Although there are over 250 species of North American crawfish, Louisiana's annual 100-million-pound, $50 million harvest consists mainly of two species. There are a lot of ways to eat crawfish: crawfish etouffee, crawfish pie, crawfish stew, boiled crawfish, crawfish beignets, crawfish bread.....