Columbus Day Closures

All park sites closed Monday, October 13, for Columbus Day. Follow the link for information about park hours and days and about access to the Barataria Preserve and Chalmette Battlefield/Chalmette National Cemetery on holidays. More »
Battle of New Orleans University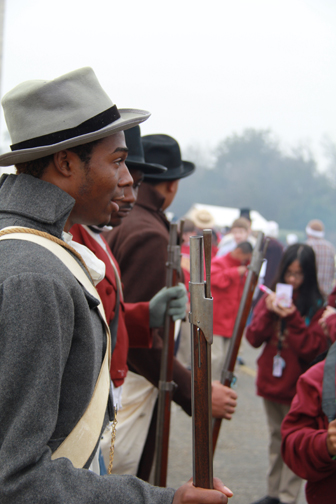 Are you ready to return to the War of 1812 era for the Battle of New Orleans bicentennial in January 2015? Do you know how to make a period dress or run a firing drill for a cannon? Do you know why the War of 1812 was fought or what New Orleans was like in 1815?
You can learn all this and more at Battle of New Orleans University programs now through December. Led by park rangers and living history reenactors, the programs will offer a variety of skills required by life in 1815 New Orleans or in-depth looks at the period's history. You may attend as many or as few workshops as you like. Workshops will be added to the schedule through fall 2014, so watch this webpage or follow the park on social media to find out what's new at Battle of New Orleans U!
Did You Know?

Lubber grasshoppers are sometimes known as devil's horses in south Louisiana. They lay their eggs in the fall and prefer loose dirt, so they often lay their eggs in cemeteries. These enormous flightless grasshoppers hatch in spring and spend the summer munching their way through vegetation.