Columbus Day Closures

All park sites closed Monday, October 13, for Columbus Day. Follow the link for information about park hours and days and about access to the Barataria Preserve and Chalmette Battlefield/Chalmette National Cemetery on holidays. More »
Battle of New Orleans Bicentennial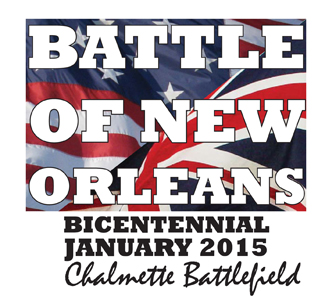 Bicentennial news:
Information about schedules and more is available here (information on link updated September 18; more information will be added as it develops).
Get ready for the bicentennial by joining a "Battle of New Orleans University" session. Discover history or learn some 1815-era hands-on skills at special programs led by park rangers or living history reenactors.
Information for living history reenactors about participating in bicentennial events at Chalmette Battlefield is now available---the deadline to apply as a living history participant is Sunday, August 31!
Information for people interested in sharing the skills and history of life in the early 1800s through demonstrations, activities, talks, music, etc., is also now available. The link will take you to the living history participants web page; you will have the same information to read and the same application to fill out. The deadline to apply to participate is Sunday, August 31!
Please note that the park is not accepting applications from vendors (food, crafts, sutlers, etc.).
Are you interested in volunteering behind the scenes at the Battle of New Orleans bicentennial in January 2015? Email the park to find out how you can get involved.
Information for the media is available here.
Information about school field trips on Friday, January 9, will be posted here in mid-October. Registration for school field trips will begin in early November. Note that registration will be first-come, first-served. Early registrations will not be accepted.
If you plan to bring a group other than a school field trip, please email the park to discuss logistics.
Thursday, January 8, 2015, is the 200th anniversary of the Battle of New Orleans, the War of 1812's final major battle. Chalmette Battlefield will be the site of commemorations, ceremonies, living history events, and National Park Service programs. Area museums, governments, living history groups,and others are planning special exhibits, programs, reenactments, and other activities. Details about events at Chalmette Battlefield and at other sites will be added as news develops.
New this year is "Battle of New Orleans University," workshops, talks, and activities designed to provide background on the history of the battle and the War of 1812 and to share the skills crucial to life in the early 1800s, from military drills to sewing to rolling black powder cartridges. Battle of New Orleans University programs are currently underway at the battlefield (more information here) and will be featured at battlefield bicentennial events in January.
The National Park Service theme for the bicentennial at Chalmette Battlefield will be "Celebrating Unity" and will highlight the unity
Among the American troops, who represented a range of regions, races, religions, languages, and social classes
Among the British troops, who were also a highly diverse force
Between the United States and Britain, one-time enemies that have developed an unprecedent alliance
Bookmark this page and check back frequently to keep up with all things bicentennial. Follow the park on social media, and learn more about the Battle of New Orleans, the War of 1812, and bicentennial events throughout the area at
Chalmette Battlefield - Programs like Battle of New Orleans University and other activities that are happening in the near future are listed. Links lead to information about Battle of New Orleans troop rosters, timelines, historical studies, and the official National Park Service War of 1812 website.
the State of Louisiana Battle of New Orleans Bicentennial Commission - Learn about bicentennial events from teacher workshops to museum exhibits, find out about the commission and how to support its work, and shop for Battle of New Orleans merchandise.
For Living History Participants

Troops and civilian reenactors, information is now available about how you can participate in the Battle of New Orleans bicentennial in 2015. Read More

Chalmette Battlefield

Return to 1815 at the site of the Battle of New Orleans, the last major battle of the War of 1812. Read More

Explore the War

Discover the people, places, and issues of the War of 1812 at the official National Park Service bicentennial website and follow events live on Facebook and Twitter. Read More
Did You Know?

Vultures do not have many predators. If an enemy does approach, the vulture will face its enemy and vomit. This inventive bird also has a unique way to stay cool: it urinates on its legs. The urine also helps kill any germs picked up while standing on a carcass.