Battle of New Orleans Bicentennial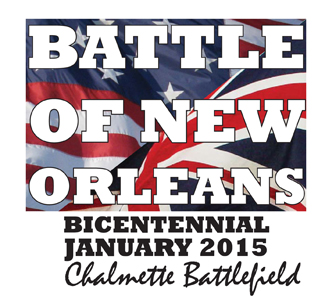 Thursday, January 8, 2015, is the 200th anniversary of the Battle of New Orleans, the War of 1812's final major battle. Chalmette Battlefield will be the site of commemorations, ceremonies, living history events, and National Park Service programs. Area museums, governments, living history groups,and others are planning special exhibits, programs, reenactments, and other activities. See the links below to learn more.
The National Park Service theme for the bicentennial at Chalmette Battlefield will be "Celebrating Unity" and will highlight the unity
Among the American troops, who represented a range of regions, races, religions, languages, and social classes
Among the British troops, who were also a highly diverse force
Between the United States and Britain, one-time enemies that have developed an unprecedented alliance.
Follow the links to find out what's happening when at Chalmette Battlefield and throughout the area.
Social media - Stay informed about upcoming events and learn about the history, people, and places of the Battle of New Orleans.
"Battle of New Orleans University" programs at Jean Lafitte - Discover history or learn some 1815-era hands-on skills at special free programs led by park rangers or living history reenactors in the months leading up to the bicentennial in January.
Volunteer opportunities - Would you like to help make this historic anniversary happen? Email the park to find out how you can get involved.
Media representatives - Information from battlefield background to press releases to public domain images is available at the link.
School field trips - School field trips visiting the battlefield on Friday, January 9, will be required to register. Information about registration will be posted here in mid-October. Registration will begin in early November. Note that space is limited and that registration will be first-come, first-served. Early registrations will not be accepted.
If you plan to bring a group other than a school field trip to a bicentennial battlefield event, please email the park to discuss logistics.
Learn more: Visit the Chalmette Battlefield page for links to information about Battle of New Orleans troop rosters, timelines, historical studies, and the official National Park Service War of 1812 website.
Chalmette Battlefield

Return to 1815 at the site of the Battle of New Orleans, the last major battle of the War of 1812. Read More

Explore the War

Discover the people, places, and issues of the War of 1812 at the official National Park Service bicentennial website and follow events live on Facebook and Twitter. Read More

Living History Reenactors

Follow the link for information of special interest to living history troops and civilians. Read More
Did You Know?

Nine-banded armadillos always give birth to four identical young, the only mammal known to do so. They can also delay birth for up to two years after fertilization of the egg.