Battle of New Orleans Bicentennial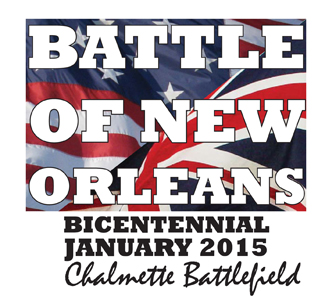 Calling all volunteers! If you'd like to join the bicentennial event team, check out the volunteer opportunities section below.
---
Thursday, January 8, 2015, is the 200th anniversary of the Battle of New Orleans, the War of 1812's final major battle. Chalmette Battlefield will be the site of commemorations, ceremonies, living history events, and National Park Service programs. Area museums, governments, living history groups,and others are planning special exhibits, programs, reenactments, and other activities. See the links below to learn more.
The National Park Service theme for the bicentennial at Chalmette Battlefield will be "Celebrating Unity" and will highlight the unity
Among the American troops, who represented a range of regions, races, religions, languages, and social classes
Among the British troops, who were also a highly diverse force
Between the United States and Britain, one-time enemies that have developed an unprecedented alliance.
Follow the links to find out what's happening at Chalmette Battlefield and throughout the area.
Volunteer opportunities - Would you like to help make this historic anniversary happen? The park needs volunteers to work at the visitor center information desk, as sales assistants, greeting buses and riverboats, helping the clean-up crew, and assisting "Battle of New Orleans University" craft demonstrators, speakers, and musicians. See you on the battlefield!
If you're 18 or older, sign up here; each volunteer must sign up separately. Save some time and paperwork when you arrive for your shift at the big event: fill out this form for individual volunteers over 18 and this photo release form and bring them with you when you come to the battlefield
Scout groups, service groups, and others under 18 can volunteer too (one adult per ten youth required); call 504-689-3690 ext. 13 or email the park to find out how.
Social media - Stay informed about upcoming events and learn about the history, people, and places of the Battle of New Orleans.
Media representatives - Information from battlefield background to press releases to public domain images is available at the link.
School field trips - Registration for school field trips on Friday, January 9, is closed since all available spaces have been filled. Many thanks to all the schools who follow the park on this website, Facebook, and Twitter and who signed up faster than ever before in the history of Battle of New Orleans anniversaries!
If you have questions about your registration, please email the park.
If you'd like to bring your group to Chalmette Battlefield on any date other than Friday, January 9, please email the park. A schedule of National Park Service bicentennial events is here.
See the "Learn more" section below for links to education materials.
If you plan to bring a group other than a school field trip to a bicentennial battlefield event, please email the park to discuss logistics.
Learn more:
Visit the Chalmette Battlefield page for links to information about Battle of New Orleans troop rosters, timelines, historical studies, and the official National Park Service War of 1812 website.
Chalmette Battlefield

Return to 1815 at the site of the Battle of New Orleans, the last major battle of the War of 1812. Read More

Explore the War

Discover the people, places, and issues of the War of 1812 at the official National Park Service bicentennial website and follow events live on Facebook and Twitter. Read More

Living History Reenactors

Follow the link for information of special interest to living history troops and civilians. Read More