Some Park Sites Closed May 17-18

Staff from throughout the park will be at the Barataria Preserve for BioBlitz May 17-18 (you're invited too!). See how this will effect operations at other sites and learn more about BioBlitz by following the link. More »
Battle of New Orleans Bicentennial Planning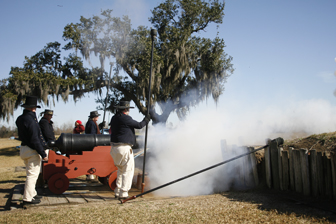 A.J. Sisco
How should the Battle of New Orleans be remembered on its 200th anniversary? Planning for the 2015 commemoration is underway, and your input is requested.
Jean Lafitte will join with park volunteers, living history reenactors, local residents, the state of Louisiana, parish governments, historic sites, museums, universities, Indian nations, the Canadian and British governments, US armed services, and other National Park Service areas to produce events, programs, exhibits, and other activities to commemorate the entire New Orleans campaign and the bicentennial of the Battle of New Orleans. A key component of the American victory at Chalmette Battlefield was teamwork, and teamwork is also a crucial factor in creating a commemoration that will be remembered for years to come.
Here's how you can get involved:
attend a public meeting and share your ideas. Dates, times, place, and RSVP information is here.
share your ideas on the Facebook page hosted by the park's planning consultants.
email your ideas to the park.
It's your bicentennial, and your assistance is important. Let's all work together to remember the brave men and women of 1815 and to tell their remarkable story to the world.
Explore the War

Discover the people, places, and issues of the War of 1812 at the official National Park Service bicentennial website. Read More

War of 1812 Bicentennial

200 years ago, the United States declared war on Great Britain. Learn about "the second war of independence" and how the park will commemorate it. Read More
Did You Know?

Nine-banded armadillos always give birth to four identical young, the only mammal known to do so. They can also delay birth for up to two years after fertilization of the egg.