Holiday Closures

All park sites closed on Christmas (December 25), and New Year's Day (January 1). Follow the link for more information about park hours and days. More »
Battle of New Orleans Anniversary Field Trips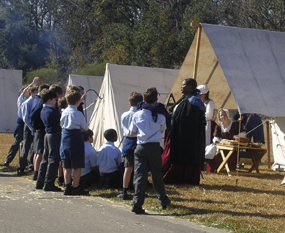 Bring your school, scout, or other group to the 199th Battle of New Orleans anniversary to experience an unforgettable trip back in time on Friday and Saturday, January 10 and 11. Note that education materials are available; just scroll down the page.
Visit the site where a ragtag army of Americans worked together to accomplish the impossible: the defeat of the mighty British empire. Listen to the cannons roar, smell the smoky campfires, and discover why this battle changed the world's balance of power. Meet living history experts in period dress portraying British officers and soldiers as well as the American army: local citizens, free men of color, American Indians, Jean Lafitte's Baratarian pirates, US military men, and volunteers from Louisiana, Kentucky, Tennessee, and Mississippi.
The battlefield anniversary event is Friday, January 10, 9:00 a.m.-3:30 p.m., and Saturday, January 11, 9:00 a.m.-3:30 p.m.
To bring your group on Friday:
Follow the links for information and registration forms for Friday field trips. Registration deadline is Friday, December 6.
Read the important information below.
To bring your group on Saturday:
No registration is required for groups attending on Saturday.
Read the important information below.
To bring your group to the annual wreath-laying ceremony on Wednesday, January 8 (time TBA).:
No registration is required for groups attending Wednesday's wreath-laying ceremony.
Parking for Wednesday's ceremony will be at the battlefield. The battlefield opens at 9:00 a.m.
Follow these links for education material that you and your group are welcome to download and use (whether you are coming to the anniversary event or not): Important Concepts about the Battle of New Orleans, Pre Visit Activity, Field Trip Activity, and Post Visit Activities.
IMPORTANT INFORMATION FOR ALL GROUPS ATTENDING EVENTS ON FRIDAY AND SATURDAY:
No vehicles except school buses, battlefield shuttles, and vehicles with handicapped tags will be allowed to enter the battlefield on Friday and Saturday. Only vehicles with handicapped tags will be allowed to park on the battlefield. For information about chaperone parking, read the next paragraph.
Free public parking for all persons not on a registered school bus or in a vehicle with a handicapped tag will be available offsite. A map to the parking area will be posted here by December 1. Free shuttles will run continuously from offsite parking to the battlefield beginning at 9:00 a.m. on Friday and Saturday.
All visitors are welcome to bring picnic lunches. No food will be available at the battlefield. Drinking fountains will be available and bottled water will be on sale.
Schedules of firings, ceremonies, and special demonstrations for Friday and Saturday will be posted here in December.
For more information, call 504-589-3882 ext. 134. Chalmette Battlefield is located at 8606 West St. Bernard Highway, Chalmette.
Explore the War

Discover the people, places, and issues of the War of 1812 at the official National Park Service bicentennial website and follow events live on Facebook and Twitter. Read More

Community Creations

See what schools and other groups are doing at Jean Lafitte! Read More

Investigators in Action

Find out what Jean Lafitte investigators are learning. Read More
Did You Know?

Two volunteer battalions of free men of color fought in the Battle of New Orleans in 1815. These men were the first black American troops to receive pay, equipment, pensions, and bounty land grants equal to that of their white counterparts.