Active Trails Lead to Better Health BaYOU!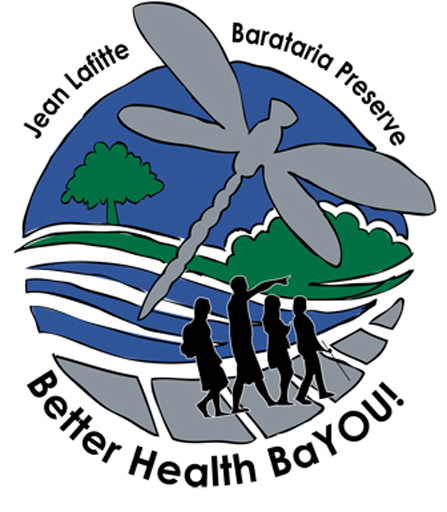 Fresh air, sunshine, and free family fun---it's time for Better Health BaYOU! On Saturday, October 24, join the rangers at the Barataria Preserve in Louisiana's wild wetlands for trail walks, yoga, live music, dancing, and a health fair. Get in on the action 10:00 a.m.-2:00 p.m. and get fit in the great ourdoors!
What's happening at Better Health BaYOU!
Live music, a health fair with tips and screenings from local organizations, and special activities for Junior Rangers throughout the day.
Ranger Fun Run (one-mile run, one-mile walk) 10:30 a.m.
Ranger-led trail walks at 11:30 a.m. (in Spanish) and at 12:30 and 2:00 p.m. (in English).
Healthy cooking demonstration 11:30 a.m.
Yoga in a chair with jazz music 12:15-1:00 p.m.
Salsa dancing class 12:45-1:45 p.m.
Here are event pdf fliers in English and Spanish to print ahd share.
Join the party at the Barataria Preserve Visitor Center, located at 6588 Barataria Preserve in Marrero (near Crown Point). For more information, call the preserve at 504-689-3690 ext. 10 or visit the preserve web page. Find a map to the preserve and learn about the preserve's trails. With 23,000+ acres of forest, swamp, and marsh and ten miles of walking trails, there's plenty to explore.
---
We all know the bad news: the percentage of people with Type 2/adult onset diabetes is skyrocketing, too many of us are overweight, and it's too easy to indulge when you live in a place that's famous for its fine food. But there's good news too: just getting out and walking three times a week can help stabilize your blood sugar, reduce your blood pressure, melt off some pounds, and put a smile on your face. The great news is that in the New Orleans area, the Barataria Preserve is right down the road. Fresh air, spectacular scenery, trails and waterways----it's just what the doctor ordered!
The preserve hosts Better Health BaYOU! Day every fall, but better health isn't built in a day. The Barataria Preserve's Active Trails Program is asking for your ideas on ways to make the preserve a special spot for healthy fun. The National Park Foundation has provided funding for trail improvements, including better signage, and to make Better Health BaYOU! Day an annual event, but better living is not just a once-a-year project. What do you think we can do to make our community a healthier place to live and to get the word out that the preserve is the prettiest place in Louisiana to walk off all those po-boys? Send us an email with your ideas or if you'd like to get involved in the preserve's Active Trails Program---we'll see you on the trail!