Some Park Sites Closed May 17-18

Staff from throughout the park will be at the Barataria Preserve for BioBlitz May 17-18 (you're invited too!). See how this will effect operations at other sites and learn more about BioBlitz by following the link. More »
Active Trails Lead to Better Health BaYOU!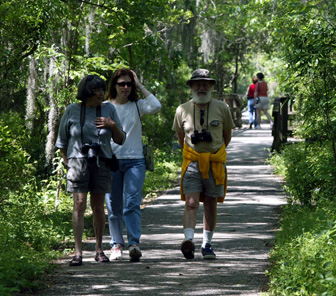 A.J. Sisco
We all know the bad news: the percentage of people with Type 2/adult onset diabetes is skyrocketing, too many of us are overweight, and it's too easy to indulge when you live in a place that's famous for its fine food. But there's good news too: just getting out and walking three times a week can help stabilize your blood sugar, reduce your blood pressure, melt off some pounds, and put a smile on your face. The great news is that in the New Orleans area, we have the Barataria Preserve for our backyard. Fresh air, spectacular scenery, trails for walking, waterways for canoeing and fishing----it's just what the doctor ordered!
The preserve joined West Jefferson Medical Center to host Better Health BaYOU! Day in November, but better health isn't built in a day. The Barataria Preserve's Active Trails Program is asking for your ideas on ways to make the preserve a special spot for healthy fun. The National Park Foundation has provided funding for trail improvements, including better signage, and to make Better Health BaYOU! Day an annual event, but better living is not just a once-a-year project. What do you think we can do to make our community a healthier place to live and to get the word out that the preserve is the prettiest place in Louisiana to walk off all those po-boys? Send us an email with your ideas or if you'd like to get involved in the preserve's Active Trails Program---we'll see you on the trail!
Did You Know?

Alligators have two eyelids! The second inner eyelid is clear and used like goggles while the alligator is under water. These amazing reptiles have been around since before the dinosaurs, and they are designed for life in the water.