Pedestrian Access to the Gateway Arch From Downtown

Pedestrian traffic on the Chestnut, Market St. and Pine St. bridges will be closed. This leaves Walnut St. and Washington Ave. as the Arch grounds points of entry to and from the city. See link for maps. More »
Things To Know Before You Come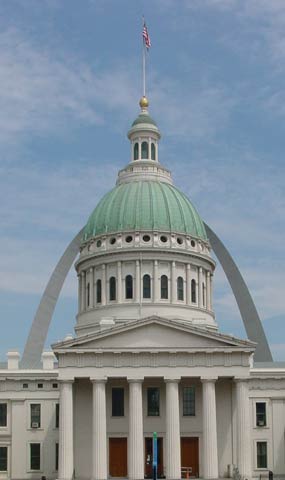 The Gateway Arch, Old Courthouse and grounds of Jefferson National Expansion Memorial (JNEM) form a natural focal point for a vibrant downtown St. Louis. As an urban site, JNEM offers an oasis to visitors, while remaining in proximity to a number of local attractions, hotels, and restaurants.
Visitors will find a number of downtown hotspots easily within walking distance, including historic Laclede's Landing, trendy Washington Avenue and the recently rebuilt Busch Stadium, not to mention the storied Mississippi River.
Visitors can expect a variety of weather typical in the Midwest, though the urban landscape creates some unique climatic variables. Summer temperatures typically exceed those of outlying areas due to the "heat island" effect. Winter winds form blustery eddies around tall buildings and gust through "street canyons" formed by passages between buildings. During spring and fall, the weather can change dramatically within a short period of time. Visitors can best prepare by dressing in layers that will protect them from wind and precipitation, and easily be removed in fair weather.
See the view from two webcams capturing the construction on the Riverfront and Arch grounds.
Two more cameras should come online sometime later this year.
Webcams courtesy of CityArchRiver 2105
Security Note:
Due to security measures at the Gateway Arch, all visitors to the Arch must pass through a security checkpoint. No weapons--including knives--are allowed. If you have pre-purchased your tram ticket, please arrive at least 30 minutes before your tram time


Did You Know?

The Gateway Arch at the Jefferson National Expansion Memorial was completed on October 28, 1965. To learn more about the construction of the Gateway Arch click here. More...