Photo Mural 8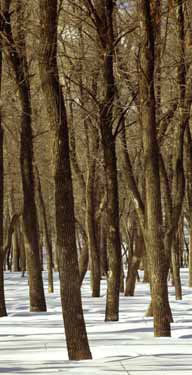 Friday 2nd Nov. [1804]
"Capt. Clark went with Some men down the Bottom to look for a place to Build our huts. they Returned Shortly had found a Good place a Short distance down where their was an Indian camp in a Grove of large cottonwood Timber. . . . Capt. Lewis & Several of the party went in a pearogue up to the 1st village of the Mandans in order to Git corn. we droped down a Short distance farther to a body & Bottom of large Timber where we commenced falling Timber, and fixing a camp close by the place where we intend for to build."
John Ordway
The above quote is taken directly from the Gary Moulton, University of Nebraska version of the Lewis and Clark Journals.
Did You Know?

On September 10, 1804 on Cedar Island, in South Dakota, William Clark discovered the fossilized remains of the ribs, backbone and teeth of a plesiosaur. Plesiosaurs were animals who lived at the same time as the dinosaurs, but swam rather than walking on land. Clark thought it was a giant fish bone! More...