Due to the Industrial Rope Access Project at the Gateway Arch

Visitors may enter the Arch at the south leg only. Tram rides to the top are still available, the observation deck at the top will have restrictions. Usual walking paths may be closed; please look for signage or a Ranger for walking directions.
Photo Mural 8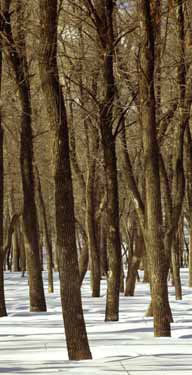 Friday 2nd Nov. [1804]
"Capt. Clark went with Some men down the Bottom to look for a place to Build our huts. they Returned Shortly had found a Good place a Short distance down where their was an Indian camp in a Grove of large cottonwood Timber. . . . Capt. Lewis & Several of the party went in a pearogue up to the 1st village of the Mandans in order to Git corn. we droped down a Short distance farther to a body & Bottom of large Timber where we commenced falling Timber, and fixing a camp close by the place where we intend for to build."
John Ordway
The above quote is taken directly from the Gary Moulton, University of Nebraska version of the Lewis and Clark Journals.
Did You Know?

Meriwether Lewis took his Newfoundland dog Seaman on the Lewis and Clark expedition? Seaman made the entire trip with the Corps and is credited with waking the members when a bison entered the camp and almost trampled them. Click here to learn more about Lewis and Clark. More...