Pedestrian Access to the Gateway Arch From Downtown

Pedestrian traffic on the Chestnut, Market St. and Pine St. bridges will be closed. This leaves Walnut St. and Washington Ave. as the Arch grounds points of entry to and from the city. See link for maps. More »
Photo Mural 8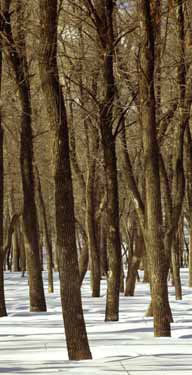 Friday 2nd Nov. [1804]
"Capt. Clark went with Some men down the Bottom to look for a place to Build our huts. they Returned Shortly had found a Good place a Short distance down where their was an Indian camp in a Grove of large cottonwood Timber. . . . Capt. Lewis & Several of the party went in a pearogue up to the 1st village of the Mandans in order to Git corn. we droped down a Short distance farther to a body & Bottom of large Timber where we commenced falling Timber, and fixing a camp close by the place where we intend for to build."
John Ordway
The above quote is taken directly from the Gary Moulton, University of Nebraska version of the Lewis and Clark Journals.
Did You Know?

The Lewis and Clark expedition sent back animals to President Jefferson from Ft. Mandan. Four magpies, a prairie dog, and a sharptailed grouse were sent back with Corporal Warfington. Unfortunately, only the prairie dog and one magpie survived the arduous journey. Learn more about the journey here. More...