Photo Mural 6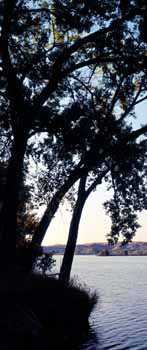 25th September Tuesday 1804 off Teton River

"...we gave them [the Sioux] [some of our provisions] to eat . . . I went in a perogue with those Chief who left the boast with great reluctians,... as Soon as I landed 3 of their young ment Seased the Cable of the Perogue, one Soldiar Huged the mast <which was> and the 2d Chief was exceedingly insolent both in words and justures to me declareing I Should no go off, Saying he had not recived presents Suffient from us- <his> I attempted to passify <him> but it had a contrary effect for his insults became So personal and his intentions evident to do me injurey, I Drew my Sword <and ordered all hands under arms> at this motion Capt Louis ordered all in the boat under arms, the fiew men that was with me haveing previously taken up their guns with a full deturmination to defend me if possible. . . . the Soldier got out of the perogue and the 2nd Chief walked off to the Party at about 20 yards back, all of which had their bows Strung & guns Cocked- I then Spoke in verry positive terms to them all, <but> principaly addressing myself to the 1st Chief [Black Buffalo], who let the roape go and walked to the Indian, party about, 100-"
William Clark



The above quote is taken directly from the Gary Moulton, University of Nebraska version of the Lewis and Clark Journals.