Pedestrian Access to the Gateway Arch From Downtown

Pedestrian traffic on the Chestnut bridge will be closed as of today Monday, March 31, 2014. This will leave the Pine St. bridge as the Arch grounds point of entry to and from the city. The new Walnut St. bridge will open next Friday to foot traffic.
Photo Mural 27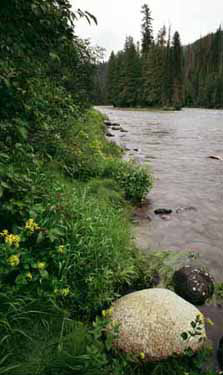 September 14th Thursday [NB:Saturday]1805
"a Cloudy day in the Valies it rained and hailed, on the top of the mountains Some Snow fell. . . . here we wer compelled to kill a Colt for our men & Selves to eat for the want of meat & we named the South fork Colt killed Creek, and this river we Call Flathead River. The Mountains which we passed to day much worse than yesterday the last excessively bad & Thickly Strowed with falling timber & Pine ... Steep & Stony our men and horses much fatigued, The rain [blank]"
William Clark
The above quote is taken directly from the Gary Moulton, University of Nebraska version of the Lewis and Clark Journals.
Did You Know?

The Gateway Arch at the Jefferson National Expansion Memorial was completed on October 28, 1965. To learn more about the construction of the Gateway Arch click here. More...