Pedestrian Access to the Gateway Arch From Downtown

Pedestrian traffic on the Chestnut, Market St. and Pine St. bridges are closed. This leaves Walnut St. as the only point of entry to the Arch grounds from the city. If you park in the Arch garage there is access from the north end of the park. See maps. More »
Photo Mural 26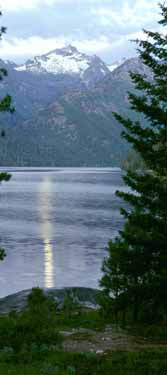 September 4th Wednesday 1805
"...we assended a mountain & took a Divideing ridge which we kept for Several Miles & fell on the head of a Creek which appeared to run the Course we wished to go, I was in front, & Saw several of the Argalia or Ibex decended the mountain by verry Steep decent takeing the advantage of the points and best places to the Creek, where our hunter killed a Deer which we made use of and prosued our Course down the Creek to the forks about 5 miles where we met a part[y] of the Tushepau [Flat head] nation of 33 Lodges about 80 men 400 Total and at least 500 horses, those people recved us friendly, threw white robes over our Sholders & Smoked in the pipes of peace....I was the first white man who ever wer on the waters of this river."
William Clark

The above quote is taken directly from the Gary Moulton, University of Nebraska version of the Lewis and Clark Journals.
Did You Know?

Meriwether Lewis took his Newfoundland dog Seaman on the Lewis and Clark expedition? Seaman made the entire trip with the Corps and is credited with waking the members when a bison entered the camp and almost trampled them. Click here to learn more about Lewis and Clark. More...