I-44 Ramp at Walnut St. to Close This Weekend

The Missouri Department of Transportation will close the ramp from eastbound I-44 to Walnut this weekend. Crews will close the ramp (Exit 291B) into downtown at 9 a.m. Friday, July 25 so crews can remove the remainder of the old ramp from the Poplar St. More »
Photo Mural 26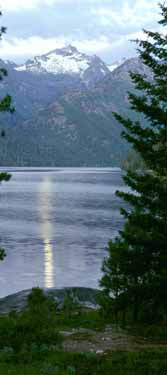 September 4th Wednesday 1805
"...we assended a mountain & took a Divideing ridge which we kept for Several Miles & fell on the head of a Creek which appeared to run the Course we wished to go, I was in front, & Saw several of the Argalia or Ibex decended the mountain by verry Steep decent takeing the advantage of the points and best places to the Creek, where our hunter killed a Deer which we made use of and prosued our Course down the Creek to the forks about 5 miles where we met a part[y] of the Tushepau [Flat head] nation of 33 Lodges about 80 men 400 Total and at least 500 horses, those people recved us friendly, threw white robes over our Sholders & Smoked in the pipes of peace....I was the first white man who ever wer on the waters of this river."
William Clark

The above quote is taken directly from the Gary Moulton, University of Nebraska version of the Lewis and Clark Journals.
Did You Know?

During the 19th Century St. Louis was the premier ironwork city. After the great fire, many of its buildings were made using iron framework topped off by beautiful iron ornamentation. Jefferson National Expansion Memorial showcases St. Louis architecture in the Old Courthouse. More...