Photo Mural 24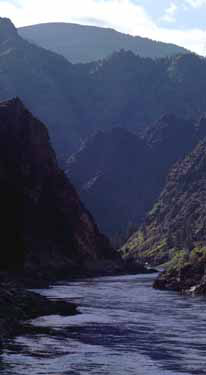 Wednesday August 14th [1805]
"I now asked Cameahwait by what rout the Pierced nosed indians [Nez Perce], who he informed me inhabited this river below the mountains, came over to the Missouri; this he informed me was to the north, but added that the road was a very bad one.... however knowing that Indians had passed, and did pass, at this season on that side of this river to the same below the mountains, my rout was instantly settled in my own mind...."
Meriwether Lewis

The above quote is taken directly from the Gary Moulton, University of Nebraska version of the Lewis and Clark Journals.
Did You Know?

The Lewis and Clark expedition sent back animals to President Jefferson from Ft. Mandan. Four magpies, a prairie dog, and a sharptailed grouse were sent back with Corporal Warfington. Unfortunately, only the prairie dog and one magpie survived the arduous journey. Learn more about the journey here. More...