Pedestrian Access to the Gateway Arch From Downtown

Pedestrian traffic on the Chestnut, Market St. and Pine St. bridges are closed. This leaves Walnut St. as the only point of entry to the Arch grounds from the city. If you park in the Arch garage there is access from the north end of the park. See maps. More »
Photo Mural 22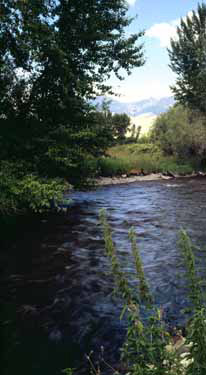 Tuesday August 13th 1805.
"we had marched about 2 miles when we met a party of about 60 warriors mounted on excellent horses who came in nearly full speed, when they arrived I advanced towards them with the flag leaving my gun with the party about 50 paces behid me. the chief and two others who were a little in advance of the main body spoke to the women, and they informed them who we were and exultingly shewed the presents which had been given them these men then advanced and embraced me very affectionately in their way which is by puting their left arm over you wright sholder clasping your back, while they apply their left cheek to yours and frequently vociforate the word âh-hi'-e, âh-hi'-e that is, I am much pleased, I am much rejoiced. bothe parties now advanced and we wer all carresed and besmeared with their grease and paint till I was heartily tired of the national hug. I now had the pipe lit and gave them smoke;...."
Meriwether Lewis
The above quote is taken directly from the Gary Moulton, University of Nebraska version of the Lewis and Clark Journals.
Did You Know?

The Lewis and Clark expedition sent back animals to President Jefferson from Ft. Mandan. Four magpies, a prairie dog, and a sharptailed grouse were sent back with Corporal Warfington. Unfortunately, only the prairie dog and one magpie survived the arduous journey. Learn more about the journey here. More...