Pedestrian Access to the Gateway Arch From Downtown

Pedestrian traffic on the Chestnut, Market St. and Pine St. bridges are closed. This leaves Walnut St. as the only point of entry to the Arch grounds from the city. If you park in the Arch garage there is access from the north end of the park. See maps. More »
Photo Mural 21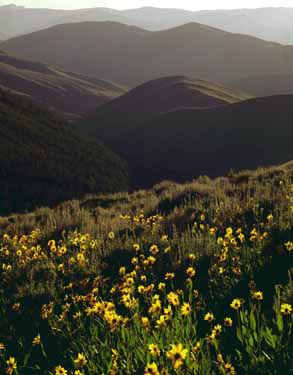 Monday August 12th 1805
"...the road took us to the most distant fountain of the waters of the mighty Missouri in surch of which we have spent so many toilsome days and wristless nights....two miles below McNeal had exultingly stood with a foot on each side of this little rivulet and thanked his god that he had lived to bestride the mighty & heretofore deemed endless Missouri....I now descended the mountain about 3/4 of a mile which I found much steeper than on the opposite side, to a handsome bold running Creek of cold Clear water. here I first tasted the water of the great Columbia river."
Meriwether Lewis

The above quote is taken directly from the Gary Moulton, University of Nebraska version of the Lewis and Clark Journals.
Did You Know?

Meriwether Lewis took his Newfoundland dog Seaman on the Lewis and Clark expedition? Seaman made the entire trip with the Corps and is credited with waking the members when a bison entered the camp and almost trampled them. Click here to learn more about Lewis and Clark. More...