Due to the Industrial Rope Access Project at the Gateway Arch

Visitors may enter the Arch at the south leg only. Tram rides to the top are still available, the observation deck at the top will have restrictions. Usual walking paths may be closed; please look for signage or a Ranger for walking directions.
Photo Mural 20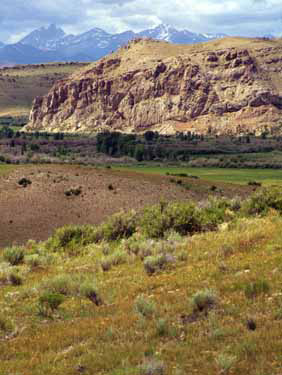 Thursday August 8th 1805.
"the Indian woman [Sacagawea] recognized the point of a high plain to our right which she informed us was not very distant from the summer retreat of her nation on a river beyond the mountains which runs to the west. this hill she says her nation calls the beaver's head from a conceived re[se]mblance of it's figure to the head of that animal.... I determined...to proceed tomorrow...untill I found the Indians;...."
Meriwether Lewis
The above quote is taken directly from the Gary Moulton, University of Nebraska version of the Lewis and Clark Journals.
Did You Know?

On September 10, 1804 on Cedar Island, in South Dakota, William Clark discovered the fossilized remains of the ribs, backbone and teeth of a plesiosaur. Plesiosaurs were animals who lived at the same time as the dinosaurs, but swam rather than walking on land. Clark thought it was a giant fish bone! More...