Pedestrian Access to the Gateway Arch From Downtown

Pedestrian traffic on the Chestnut, Market St. and Pine St. bridges are closed. This leaves Walnut St. as the only point of entry to the Arch grounds from the city. If you park in the Arch garage there is access from the north end of the park. See maps. More »
Photo Mural 19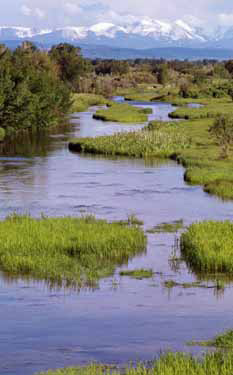 Saturday July 27th 1805.
"...we arrived at 9 A.M. at the junction of the S.E. fork of the Missouri and the country opens suddonly to extensive and beatifull plains and meadows which appear to be surrounded in every direction with distant and lofty mountains; supposing this to be the three forks of the Missouri I halted the party on the Lard. shore for breakfast and walked up the S.E. fork about 1/2 a mile and ascended the point of a high limestone clift from whence I commanded a most perfect view of the neighbouring country."
Meriwether Lewis

The above quote is taken directly from the Gary Moulton, University of Nebraska version of the Lewis and Clark Journals.
Did You Know?

The Lewis and Clark expedition sent back animals to President Jefferson from Ft. Mandan. Four magpies, a prairie dog, and a sharptailed grouse were sent back with Corporal Warfington. Unfortunately, only the prairie dog and one magpie survived the arduous journey. Learn more about the journey here. More...