Pedestrian Access to the Gateway Arch From Downtown

Pedestrian traffic on the Chestnut bridge will be closed as of today Monday, March 31, 2014. This will leave the Pine St. bridge as the Arch grounds point of entry to and from the city. The new Walnut St. bridge will open next Friday to foot traffic.
Photo Mural 19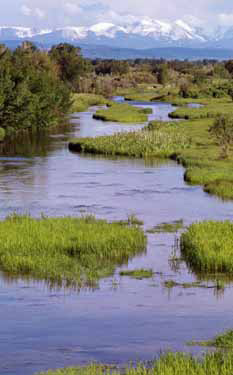 Saturday July 27th 1805.
"...we arrived at 9 A.M. at the junction of the S.E. fork of the Missouri and the country opens suddonly to extensive and beatifull plains and meadows which appear to be surrounded in every direction with distant and lofty mountains; supposing this to be the three forks of the Missouri I halted the party on the Lard. shore for breakfast and walked up the S.E. fork about 1/2 a mile and ascended the point of a high limestone clift from whence I commanded a most perfect view of the neighbouring country."
Meriwether Lewis

The above quote is taken directly from the Gary Moulton, University of Nebraska version of the Lewis and Clark Journals.
Did You Know?

On September 10, 1804 on Cedar Island, in South Dakota, William Clark discovered the fossilized remains of the ribs, backbone and teeth of a plesiosaur. Plesiosaurs were animals who lived at the same time as the dinosaurs, but swam rather than walking on land. Clark thought it was a giant fish bone! More...