Pedestrian Access to the Gateway Arch From Downtown

Pedestrian traffic on the Chestnut, Market St. and Pine St. bridges are closed. This leaves Walnut St. as the only point of entry to the Arch grounds from the city. If you park in the Arch garage there is access from the north end of the park. See maps. More »
Photo Mural 17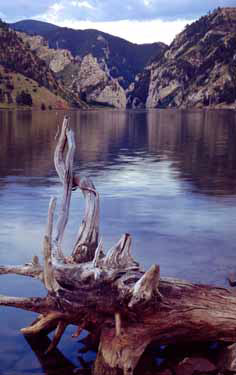 Friday July 19th 1805
"this evening we entered much the most remarkable clifts that we have yet seen. these clifts rise from the waters edge on either side perpendicularly to the height of [NB: about] 1200 feet. every object here wears a dark and gloomy aspect. the tow[er]ing and projecting rocks in many places seem ready to tumble on us. the river appears to have forced it's way through this immence body of solid rock.... it happens fortunately that altho' the current is strong it is not so much so but what it may be overcome with the oars for there is here no possibility of using either the cord or Setting pole.... from the singular appearance of this place I called it the gates of the rocky mountains."
Meriwether Lewis

The above quote is taken directly from the Gary Moulton, University of Nebraska version of the Lewis and Clark Journals.
Did You Know?

The Lewis and Clark expedition sent back animals to President Jefferson from Ft. Mandan. Four magpies, a prairie dog, and a sharptailed grouse were sent back with Corporal Warfington. Unfortunately, only the prairie dog and one magpie survived the arduous journey. Learn more about the journey here. More...