Pedestrian Access to the Gateway Arch From Downtown

Pedestrian traffic on the Chestnut, Market St. and Pine St. bridges are closed. This leaves Walnut St. as the only point of entry to the Arch grounds from the city. If you park in the Arch garage there is access from the north end of the park. See maps. More »
Photo Mural 13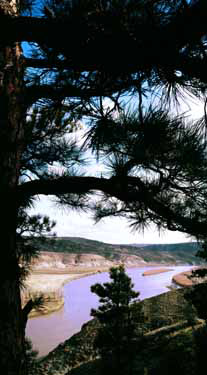 Saturday May 11th 1805.
"...he [Bratton] had shot a brown bear which immediately turned on him and pursued him a considerable distance...we at length found his trale and persued him about a mile by the blood through very thick brush of rosbushes and the large leafed willow; we finally found him concealed in some very thick brush and shot him through the skull with two balls;...we now found that Bratton had shot him through the center of the lungs, notwithstanding which he had pursued him near half a mile...these bear being so hard to die reather intimedates us all; I must confess that I do not like the gentlemen and had reather fight two Indians than one bear;...."
Meriwether Lewis

The above quote is taken directly from the Gary Moulton, University of Nebraska version of the Lewis and Clark Journals.
Did You Know?

Pierre Cruzatte and George Gibson brought their fiddles along on the Lewis and Clark expedition. Their music entertained the group on many evenings. Click here to learn more about Lewis and Clark and the Corps of Discovery. More...