I-44 Ramp at Walnut St. to Close This Weekend

The Missouri Department of Transportation will close the ramp from eastbound I-44 to Walnut this weekend. Crews will close the ramp (Exit 291B) into downtown at 9 a.m. Friday, July 25 so crews can remove the remainder of the old ramp from the Poplar St. More »
Photo Mural 13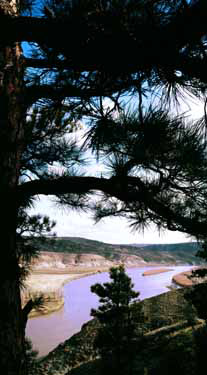 Saturday May 11th 1805.
"...he [Bratton] had shot a brown bear which immediately turned on him and pursued him a considerable distance...we at length found his trale and persued him about a mile by the blood through very thick brush of rosbushes and the large leafed willow; we finally found him concealed in some very thick brush and shot him through the skull with two balls;...we now found that Bratton had shot him through the center of the lungs, notwithstanding which he had pursued him near half a mile...these bear being so hard to die reather intimedates us all; I must confess that I do not like the gentlemen and had reather fight two Indians than one bear;...."
Meriwether Lewis

The above quote is taken directly from the Gary Moulton, University of Nebraska version of the Lewis and Clark Journals.
Did You Know?

During the 19th Century St. Louis was the premier ironwork city. After the great fire, many of its buildings were made using iron framework topped off by beautiful iron ornamentation. Jefferson National Expansion Memorial showcases St. Louis architecture in the Old Courthouse. More...