Pedestrian Access to the Gateway Arch From Downtown

Pedestrian traffic on the Chestnut bridge will be closed as of today Monday, March 31, 2014. This will leave the Pine St. bridge as the Arch grounds point of entry to and from the city. The new Walnut St. bridge will open next Friday to foot traffic.
Photo Mural 11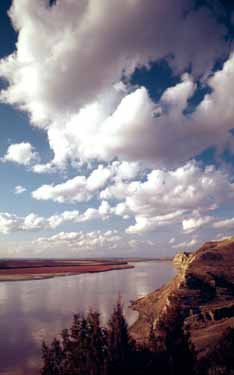 Thursday April 25th 1805.
"... I determined to encamp on the bank of the Yellow stone river which made it's appearance about 2 miles South of me. the whol face of the country was covered with herds of Buffaloe, Elk & Antelopes; deer are also abundant, but keep themselves more concealed in the woodland. the buffaloe Elk and Antelope are so gentle that we pass near them while feeding, without apearing to excite any alarm among them, and when we attract their attention, they frequently approach us more nearly to discover what we are, and in some instances pursue us a considerable distance apparenly with that view.-"
Meriwether Lewis

The above quote is taken directly from the Gary Moulton, University of Nebraska version of the Lewis and Clark Journals.
Did You Know?

Land for the Historic Old Courthouse was donated in 1816 by Judge John Baptisite Charles Lucas and St. Louis founder Rene Auguste Chouteau. More...