Photo Mural 10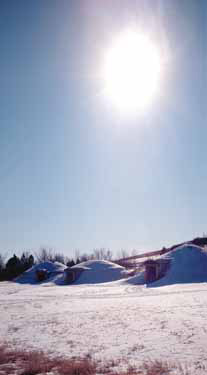 11th February Monday 1805.
" about five oclock this evening one of the wives of Charbono [Sacagawea] was delivered of a fine boy. it is worthy of remark that this was the first child which this woman had boarn and as is common in such cases her labour was tedious and the pain violent;"
Meriwether Lewis

The above quote is taken directly from the Gary Moulton, University of Nebraska version of the Lewis and Clark Journals.
While the expedition was in winter quarters near the Mandan villages, Lewis and Clark secured the services of an interpreter named Toussaint Charbonneau, a French-Canadian trapper who had spent nearly ten years in the upper Missouri region. More importantly, Charbonneau offered to bring with him one of his two Shoshone Indian wives, a 16-year old named Sacagawea.

Sacagawea was born in the Rocky Mountains into the Lemhi Shoshone tribe. Lewis and Clark felt that her language skills could prove essential to the company, since they would pass through Shoshone country on their way to the Pacific and would need to barter for horses. As a child Sacagawea had been captured by the Hidatsa tribe and brought to the upper Missouri region. The son born to her on February 11, 1805 was named Jean Baptiste Charbonneau. Nicknamed "Pomp" or "Pompey" by William Clark, the baby boy shared in the adventures and hardships of the expedition as they traveled to the Pacific Ocean.