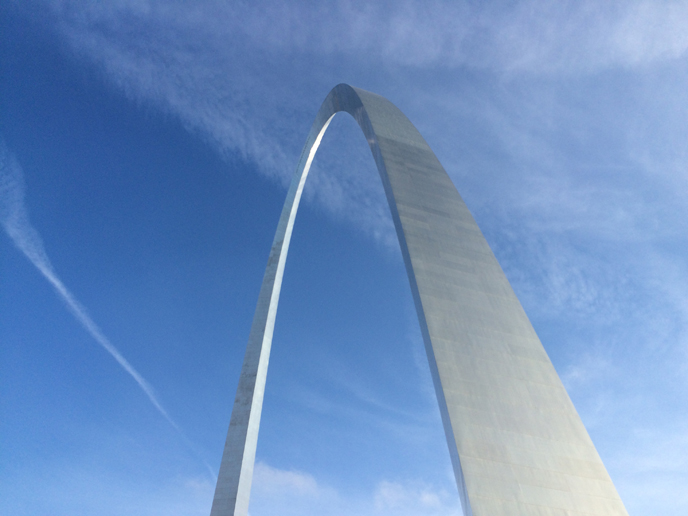 Spring and summer are busy times at the Arch. Sometimes we sell out of tickets to visit the top. Reserve your spot in advance online or by calling toll-free 877-982-1410.
Visitors taking a tram ride to the top of the Gateway Arch for a stunning panoramic view of the St. Louis area. See a screening of the film "Monument to the Dream" which details the construction of the Arch. Make a stop at one of the museum shops for a wide selection of books, videos, posters, and educational materials.
The Historic Old Courthouse is the visitor center for the Arch where you can purchase your timed ticket to the Arch and learn the status of construction on the Arch grounds. The Old Courthouse also houses restored courtrooms and a History Channel film about the Dred Scott case. New exhibits featuring Colonial St. Louis, Lewis and Clark and the fur trade, and the clash of cultures between pioneers and American Indians will open in April 2015.
Check out the Calendar to learn about upcoming activities and programs.

Security Note:
Due to security measures at the Gateway Arch, all visitors to the Arch must pass through an airport style security checkpoint. No weapons--including firearms, knives, pepper spray, mace, or electronic weapons--are allowed. If you have pre-purchased your tram ticket, please arrive at least 30 minutes before your tram time.

Teachers, Boy Scout and Girl Scout Leaders
Please visit the Education section to find programs and resources for your class, Boy Scout or Girl Scout group.
Museum Closure Notice Questions and Answers
Museum of Westward Expansion Closure and the Old Courthouse
as the Gateway Arch Ticket and Visitor Center During Construction