Arch Architecture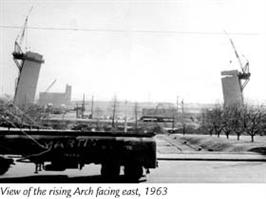 The architecture of the Arch is one of its most interesting aspects. Learn more about the
materials and techniques
used in the construction of the Arch in a detailed account by
J.E.N. Jensen
, Associate Director of the National Park Service. Equally fascinating is the story of the Arch's architect,
Eero Saarinen
as well as the
mathematical equation
used to create the catenary curve shape of the Arch.


Did You Know?

During the 19th Century St. Louis was the premier ironwork city. After the great fire, many of its buildings were made using iron framework topped off by beautiful iron ornamentation. Jefferson National Expansion Memorial showcases St. Louis architecture in the Old Courthouse. More...