Pedestrian Access to the Gateway Arch From Downtown

Pedestrian traffic on the Chestnut, Market St. and Pine St. bridges are closed. This leaves Walnut St. as the only point of entry to the Arch grounds from the city. If you park in the Arch garage there is access from the north end of the park. See maps. More »
Arch Architecture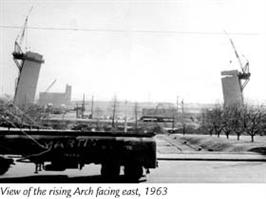 The architecture of the Arch is one of its most interesting aspects. Learn more about the
materials and techniques
used in the construction of the Arch in a detailed account by
J.E.N. Jensen
, Associate Director of the National Park Service. Equally fascinating is the story of the Arch's architect,
Eero Saarinen
as well as the
mathematical equation
used to create the catenary curve shape of the Arch.


Did You Know?

Meriwether Lewis took his Newfoundland dog Seaman on the Lewis and Clark expedition? Seaman made the entire trip with the Corps and is credited with waking the members when a bison entered the camp and almost trampled them. Click here to learn more about Lewis and Clark. More...