Private Alexander Hamilton Willard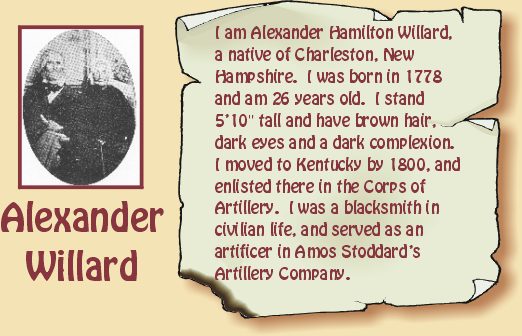 This picture of Alexander Willard and his wife was taken near the end of his life in the 1860s. It appeared in Olin D. Wheeler's book "The Trail of Lewis and Clark" in 1904.
P.S. I got into a lot of trouble on July 12, 1804, when I was on guard duty. I was caught sitting down and accused of falling asleep while on guard. In the army, that offense could be punished by shooting a soldier. Instead of being shot I was sentenced to 100 lashes. After that I had no more problems, and helped the expedition by blacksmithing along with John Shields. I later worked for the government as a blacksmith for Indian tribes. I got married in 1807 and eventually had 12 children. I served in the War of 1812 and lived in Missouri and Wisconsin. In 1852 I took my family overland in a covered wagon to the new state of California. I died in 1865 near Sacramento at the age of 87.