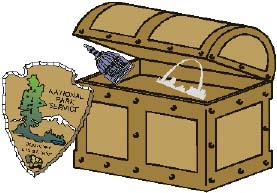 EXPERIENCE YOUR AMERICA
National Parks are exciting places to explore our country's great beauty and to learn the rich lessons of our past. When we talk about the West, many colorful images come to mind. But do you know about the Lewis and Clark Expedition? If you could travel back in time, would you want to travel with them into the unexplored frontier?
We at Jefferson National Expansion Memorial are dedicated to sharing these exciting pages of America's westward expansion movement with everyone. This traveling trunk provides a mini-museum for those who are unable to visit the Museum of Westward Expansion and the Old Courthouse. It has hands-on objects, mounted photographs, video and audiotapes, clothing, and books. You will also find a laminated contents sheet in your information folder. If will help you identify the artifacts in the trunk. To prepare your students, use the Pre-Trunk Activity you received with your invoice. We also suggest you use the two Post-Trunk Activities after you finish the trunk. Classtoom activities in this handbook are labeled in red. You can choose those that meet your students' needs.