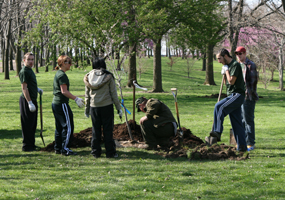 NPS
Get To Know Us | Get The Picture
Project Green Tree 2009
Saturday April 4, 2009, 31 students from St. Louis Community College volunteered their time at the Jefferson National Expansion Memorial for the planting of 24 trees. The volunteers worked for six hours planting and picking up sticks on the grounds. The students are from Deborah Hyland's English class.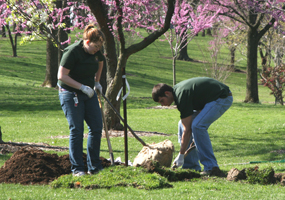 NPS
The trees were being funded by the Missouri Department of Conservation, through a
T.R.I.M. (Tree Resource Improvement & Maintenance) $10,000.00 matching funds grant. The trees were being planted to replace trees that had been removed due to storm damage or disease.
The students were under the supervision of Deborah Hyland, English instructor from the college, and Jim Jacobs, park grounds maintenance Gardner Supervisor, as well as park grounds maintenance personnel.